Three-metre high ice sculpture placed on Snowdon's peak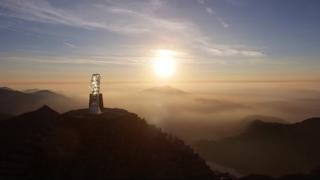 A three-metre high ice maiden has been placed on the summit of Snowdon.
More than 1,500kg of ice was taken up by the mountain railway to Wales' highest spot.
The ice had to be rushed in and out of the summit cafe freezer to stop it from melting as it was being carved.
Welsh women's charity Chwarae Teg created the ice maiden as part of its Agile Nation project to promote opportunities for women in work.
Pictures of the sculpture have just been released, after it stood on the summit for a night last month.