NSPCC's call for law change over sex messages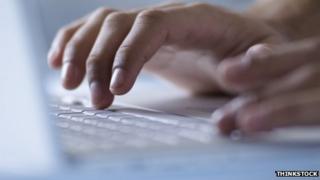 Campaigners want it to be made illegal for adults to send sexual messages to children.
Currently, it is not an offence for someone over 18 to send a person under 16 a sex text, email or instant message.
But the NSPCC wants the law changed and has launched its Flaw in the Law campaign.
It comes as Childline in Wales said it spoke to 238 children last year about online sex abuse.
"No adult should be deliberately sending sexual messages to children, but incredibly it is not always illegal," said NSPCC national head of service for Wales Des Mannion.
"Existing laws are hotch-potch and sex offenders can and do exploit the loopholes.
"The rise of online communication means that children are increasingly being exposed to sexual messages from adults on social networks or through messaging apps, but in many cases the police are powerless to act."
---
Case study: A teenage girl from south Wales tells her story.
The schoolgirl was just nine when she went online, logged on to her first chat room and sent pictures of herself to men.
"As soon as I went online, there would be people come up to me in their 40s, 50s, and ask me, 'will you show me pictures?'," she said.
"And because I was nine, out of curiosity, I'd say I'd want to do it. I want to see what people are doing... there was no pressure to do it, but every one was doing it."
She thought she could "step out" of the chat room world whenever she liked, but could not.
Her parents found out and banned her from using the internet until she was 12, and then the online abuse continued.
Self-harming
"People were different then... they'd befriend you and... make it seem like it was a real relationship," she said.
"So I got into a relationship with an 18-year-old and from then on he would ask me for pictures."
The abuser then began to control all aspects of the schoolgirl's life, her weight plummeted, she started failing at school and self-harming.
She said she turned to chat rooms because she was not receiving the attention she craved from her parents and became involved with other men.
Even though her parents, again, stopped her using the computer, the girl said: "A child that wants something can always find their way around it.
"I had a secret phone and would carry on in my bedroom."
But now she knows it is wrong for a 30-year-old man to be interested in a young girl.
"Now I'm a lot better, I have more friends and I don't cut myself anymore," she said.
The schoolgirl added, without the NSPCC should would not have had the tools in place to escape the chat rooms.
---