'Modern day slavery' farmer David Doran jailed for four years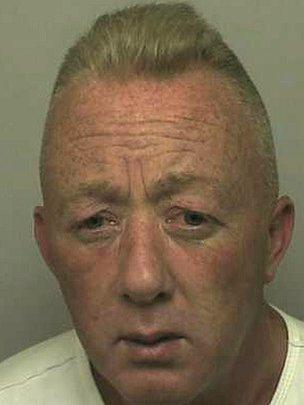 A horse farmer who forced a "terrified" vulnerable man to work unpaid for 13 years in "modern day slavery" has been jailed for four-and-a-half years.
David Daniel Doran, 42, pleaded guilty midway through his trial to making Darrell Simester, from Worcestershire, perform forced or compulsory labour.
Judge Neil Bidder QC at Cardiff Crown Court told Doran the way he had treated him was "repellent and wrong" and "not much better than a slave".
The victim worked up to 16 hours a day.
David Doran's father Daniel Doran, 67, who faced the same charge, was formally found not guilty earlier this month.
Mr Simester's family, from Kidderminster, believed he was missing after going on a trip to the seaside in Porthcawl in south Wales in 2000.
In fact, a member of the Doran family had picked him up at the side of a dual carriageway while travelling home and taken him to Cariad Farm in Peterstone near Newport, where he was offered work on the family farm.
But the work turned into forced labour where the 44-year-old was made to work unpaid for up to 16 hours a day and only ever had two days off.
Prosecutors said he lived in "pitiful conditions and in a poor physical state" and, after his family finally tracked him down following a media campaign, they could hardly recognise him and described him as being a "broken man" who looked far older than his years.
Before Judge Bidder sentenced Doran - also known as Dan Doran Jnr - the court was told the impact of Mr Simester's lost years on his family, who had been deeply traumatised.
His mother used to look at workmen on the road, wondering if they were her son, a victim impact statement said. His father thought his son, who he said was very easily influenced, was probably dead.
The court was also told that the prosecution estimated that the victim's work may have had value of up to £280,000.
While sentencing him, the judge said that while Doran had exploited his victim for 13 years, he could only sentence him for the period of 2010 to 2013, which is when the offence of forced labour was created.
"This was economic exploitation of a very inadequate individual of a very serious and ruthless kind," he said.
During Doran's trial, the jury was told that for more than a decade, Mr Simester had to sleep in a rat-infested shed with just his horse manure-stained clothing for bedding - before being moved to a squalid and cold caravan with a broken door.
The only place he had to clean himself was in a horse trough outside and he was not given soap or toothpaste for more than 10 years.
He also had to huddle so close to an electric heater for warmth that over the years the skin on his left leg had been scarred.
When he was found he was in a "horrific state" with a chest infection, a hernia and calloused feet, along with being very malnourished.
Following the sentencing the Crown Prosecution Service Wales said there was "no place for any form of modern day slavery" and Gwent Police added that it was an appalling betrayal which took advantage of Darrell's vulnerable and timid nature".