NHS staff to strike after 1% pay rise 'ignored'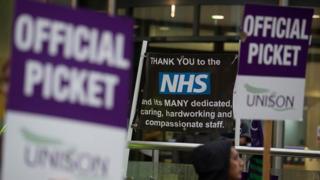 NHS staff in Wales will strike for half a day in November and then work to rule for the following four days.
Unison confirmed 27,000 members will stage the half-day stoppage from 8:30 to 12:00 GMT on Monday 10 November.
For the rest of the week, staff will take action short of a strike by ensuring they take breaks and work their contracted hours.
The union said the action is in response to a recommended pay increase of 1% for staff being ignored.
Staff were instead offered a non-consolidated payment of £160.
Unison argued this would not count towards pension entitlements or shift pay, and will not occur in future years.
Staff taking part in the strike action include nurses, occupational therapists, porters, paramedics, medical secretaries, cooks and healthcare assistants.
'Goodwill running low'
Unison's Dawn Bowden said: "NHS members don't take action often or lightly.
"The NHS runs on the goodwill of its workers but that goodwill is beginning to run low."
She added: "We understand the complexities within the Welsh budget, but the workforce cannot be expected to continue to plug the financial gap in the Welsh NHS."
Unison's spokesperson in Cardiff, Amber Courtney, added it "will not be business as usual" for hospitals and warned action would have a "detrimental effect" on services.
The ballot, which ended on 20 October, saw 77% of members voting in favour of industrial action and 90% for action short of a strike.
'Pay restraint'
The Welsh government said it was disappointed with the ballot result as pay discussions were ongoing.
When the results were announced a week ago, a Welsh government spokesperson said: "By 2015/16 the Welsh government's budget will be 10% lower in real terms than it was in 2010/11 - a reduction which equates to £1.5bn less.
"With pay accounting for more than 60% of the NHS budget we have no choice but to consider some form of pay restraint to maintain jobs and frontline services."