History tourism £19m economy boost, says Cardiff University study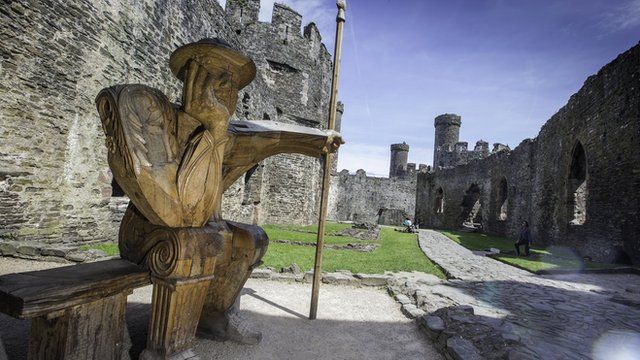 A drive to attract more visitors to heritage sites like Blaenavon Ironworks and Conwy Castle could boost the economy by £19m a year, a report says.
Cadw's Heritage Tourism Project has improved over 40 historic places in Wales, with initiatives to create better exhibitions and websites.
A Cardiff University study found more visitors were now going to the attractions, leading to 1,000 new jobs.
It also said the project had benefited nearby shops and businesses.
The Heritage Tourism Project (HTP) was launched in 2009 with an aim to open up Wales' heritage to a wider audience by making it more enjoyable.
Improvements include audio-visual displays, trails for children, new visitor centres and better websites.
Following the investment, Blaenavon Ironworks - a World Heritage Site in Torfaen - has seen a 14.2% increase in visitors and numbers are up by 8.3% at Conwy Castle.
Llandudno Museum, Great Orme Country Park Visitor Centre and the Great Orme Ancient Mines in Conwy, which have also received funding for improvements, have also seen one of their busiest summers on record, pulling in more than 86,000 visitors collectively.
The study, which was carried out as the HTP nears its end in December, also estimated that there was around £15.2m spent and more than 260 full time jobs supported during building work at the heritage sites.
Prof Max Munday, of the Welsh Economy Research Unit at Cardiff University's Business School, said: "These findings give us a valuable insight into the return on investment we get from improving our historical assets in Wales."
Ken Skates, deputy minister for culture, sport and tourism said the findings of the study show how Wales' history "is an asset to the country's economy".
"Wales' diverse historic environment is a huge pull for tourists, and it is as important as ever that we look to maximise the very real opportunities that heritage can offer to strengthen our economy," he added.
The HTP was partly funded by the European Regional Development Fund through the Welsh government.
Related Internet Links
The BBC is not responsible for the content of external sites.