Veterans' voices of World War One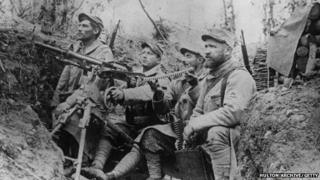 Remembrance Day this year has special resonance as it also marks the centenary of the early months of World War One.
All the old soldiers from Wales who returned are now dead but the stories of those who survived were recorded in the 1970s and 1980s and are now in the archives of the Imperial War Museum.
Here are some extracts:
Pte Thomas Howell Phillips, Abernant, service number 9489
The son of a dairy farmer from Lampeter, Ceredigion, he served with Machine Gun Corps attached to 8th and 49th Divisions on Western Front, 1916-1918. During his service he was gassed and he suffered the effects after the war.
He tells of Germans buying all the Cardiganshire Cob horses at Lampeter Horse fair in May 1914 in preparation for war, which broke out three months later.
You can hear more in the IWM archive
Gunner William Jones, Brynaman, 9926
William went down the pit aged 14 and joined the Royal Field Artillery in 1915. He served with C Battery, 122nd Brigade on Western Front, including at Mametz Wood on the Somme in 1916. After the war, he returned to mining but still had nightmares about the war.
He tells a story about how he switched talking from English to Welsh to confuse the Germans, who were listening in.
Irving Henry Jones, Bedwas near Caerphilly 9994
He served as a signaller with 10th Battalion Welch Regt in GB and on Western Front, from 1914 to 1917, including at Mametz Wood in the Somme.
For a year he was a reservist in coal mining but then re-enlisted in 1918.
He says they were expecting heavy casualties and the men were told not to stop to help anyone on the way to the wood.
Ivor Watkins, Sketty, Swansea, 12232
He was recruited in 1916 and as an officer who served with the 15th, 2nd and 6th Battalions, with the Welsh Regiment from 1917 to 1919.
He tells of a replica tree stump made of iron and used as an observation and sniper position.
Robert Owen, Llandudno, 14765
A private who served with 5th Battalion of the South Wales Borderers on Western Front, 1917-1918. He had been a telegram boy before the war. His recollections include deaths of comrades, avoiding German snipers and rats in the trenches.
Here he reads the poem Anthem for Doomed Youth by Wilfred Owen (pictured), which Robert used to read at Remembrance services.
Leonard Jesse Ounsworth, Yorkshire, 332
A signaller, he served with 124th and 144th Heavy Batteries Royal Garrison Artillery in GB and on Western Front, 1914-1919
He tells of the hostility among soldiers towards Welsh colliers due to the miners' strike of 1918.
Donald Price, Barry, 10168
Here is an extract from Donald Price, from Barry in the Vale of Glamorgan. Before the war he was working as an apprentice in the fur trade in Manchester.
He was a private serving with the 20th and 13th Battalions of the Royal Fusiliers throughout the war.
He speaks of ending up in a latrine pit after getting isolated in high wood.
Sir Joseph William Lennox Napier, 7499
He served as officer with 4th Battalion of the South Wales Borderers in Gallipoli and Mesopotamia, between 1914 and 1917, and was a prisoner of war in Turkey in the last year of the war.
He describes the religious nature of Welsh soldiers - who despite different denominations all had in common their reading of the Bible.