Ebola warning posters sent to Welsh GPs and hospitals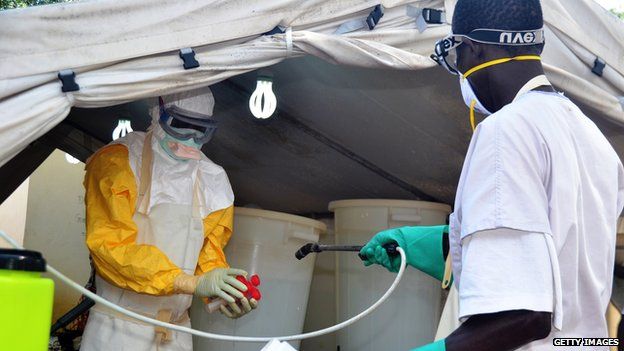 Ebola virus warning posters have been sent to GPs, pharmacies and hospitals across Wales.
The alert is aimed at people who feel unwell after returning from west African countries at the centre of the outbreak which has caused 5,000 deaths.
Public Health Wales (PHW) said posters had also been sent to sexual health clinics and specialist TB clinics.
Officials added that there were no cases of Ebola in the UK and the risk to the public was low.
The posters urge anyone who feels unwell after returning to Wales from Guinea, Liberia or Sierra Leone, or after caring for someone with Ebola, to phone NHS Direct on 0845 46 47.
PHW said the posters had been sent to health facilities where returning travellers were likely to see them.
They included all GPs and pharmacies, and have been sent to health boards for distribution in hospitals.
A PHW spokesperson said: "We have developed posters for use in healthcare settings throughout Wales to ensure that anyone who has been in the outbreak area in the last 21 days and has symptoms that may be consistent with Ebola can seek appropriate advice.
"There are no cases of Ebola in the UK and the risk to the public is low.
"However, it is likely we will see cases in the UK in people who have visited the affected countries and we need to ensure that clear information on how to seek medical help is available to them."
Ebola has infected more than 10,000 people and killed nearly 5,000 in the current outbreak in west Africa.
NHS Wales has been preparing for any potential cases for several months.
Earlier in October, First Minister Carwyn Jones announced that any Welsh patients confirmed as infected with Ebola would be sent to London for treatment at the Royal Free Hospital.
Related Internet Links
The BBC is not responsible for the content of external sites.