Philip Heggarty's life tariff upheld by appeal judges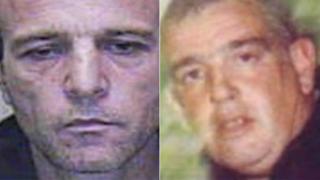 A man who bludgeoned his friend to death, wrapped his body in a rug and dumped it in a car which he torched, has lost an appeal against his "whole-life" jail sentence.
Philip Peter Heggarty attacked Derek Bennett with a hammer at a flat in Grangetown, Cardiff, in April 2003.
Appeal court judges ruled the judge in his 2004 trial was "clearly entitled" to impose the tariff for the murder.
Heggarty is among more than 50 prisoners on whole-life terms.
His trial heard Mr Bennett took an hour-and-a-half to die after Heggarty smashed his skull into 23 pieces before stealing cash and burning his friend's body.
The body was so badly burnt, Mr Bennett, who lived with his partner, step children and young son in St Mellons, Cardiff, could only be identified from dental records.
Swansea Crown Court heard Heggarty had 20 previous convictions for 79 offences, including attempted murder, wounding with intent, inflicting actual bodily harm and robbery, for which he had served lengthy jail terms.
The judge who jailed him, Mr Justice Evans, branded Heggarty a "resourceful and manipulative liar" and an "extremely dangerous man".
Heggarty's counsel at London's Court of Appeal, argued Mr Justice Evans, who is now retired, had made a mistake in imposing a life-long tariff.
But Lady Justice Rafferty, sitting with Mr Justice Kenneth Parker and Mrs Justice Patterson, said: "The judge was clearly entitled to impose a whole-life order.
"This man had previous convictions which established him as particularly violent and capable of inflicting serious violence for gain.
"We see no reason to interfere with the judge's conclusion."