Men in Wales with cancer 'more depressed' than women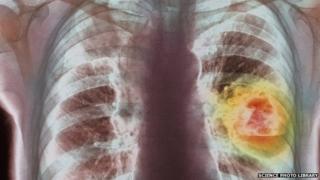 Men with cancer in Wales are more depressed, anxious and have feelings of hopelessness compared with women following diagnosis, research suggests.
The charity Tenovus has said men find it more difficult to come to terms with the disease but just one in five seek counselling.
The charity has said once men do receive support, 88% show a significant improvement in how they feel.
The research has been released on Monday.
It will be presented to the National Cancer Research Institute (NCRI) annual conference.
"We (men) are not very good with our in health in general," said service development manager at Tenovus Richard Pugh.
"We are a very difficult bunch to engage with, and our research has shown though when we are engaged the results are great for us."
Claudia McVie, chief executive of Tenovus, added: "It's understandable that many men try to maintain a stiff upper lip when they're affected by cancer, but our research shows that talking problems through with a trained professional can make an enormous difference to their quality of life.
"There's no shame in accepting a helping hand to make life a bit easier."