Harlech friends' cancer 'cluster' study call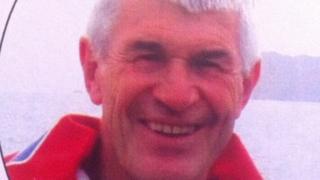 Cancer experts have called for more research after four friends brought up in the same part of Gwynedd were diagnosed with aggressive brain tumours in the last two years.
One of the men died in June and an oncologist treating them said the Ardudwy cluster was of "concern".
Another expert told BBC Radio Cymru it indicated it had "significance".
Public Health Wales found "no unusual pattern of brain cancers" and said no further investigation was needed.
Questions have been raised about whether the cancers could have any connection with the fall-out of radiation from the Chernobyl nuclear disaster in 1986.
The final restrictions on moving sheep on hills farms in north west Wales were only lifted two years ago.
The group of friends are now in their 60s but were pupils together at Ysgol Ardudwy in Harlech.
Dewi Jones, Gwynfor John Williams, Ian Rayner and Dafydd Roberts all found out that they had the same type of aggressive grade four brain tumour when turning up for treatment on the same day at Glan Clwyd Hospital in Bodelwyddan.
Mr Rayner, 63, of Ynys near Harlech, told BBC Radio Cymru's Manylu programme: "It was a shock but also something comforting in it that we were all going through it together."
He was the first to be diagnosed in September 2012 and surgeons have been able to remove most, but not all, of his tumour.
Mr Jones, Mr Roberts and Mr Williams were all diagnosed in September 2013 but Mr Williams died in June.
His widow Deborah added: "We have a lot of questions but no answers".
Mr Jones, originally from Minffordd, said he wanted to know if there could be any link with Chernobyl or even the building of the now closed Trawsfynydd nuclear power plant.
"I'm not making any political points, I don't think, but there are possibilities, aren't there?" he told the programme.
"I'd like to see research done to try and save people suffering now and to try and stop people from having brain tumours in the future."
The programme has also spoken to families of three others who were in school at the same time and have also had brain tumours. Two of them had it as secondary cancers and have died in recent years.
Prof Bleddyn Jones, from the oncology department at Oxford University, has treated many patients from rural north Wales while working on the Wirral in the 1990s.
"If you have six or more from the same school within 10 years of each other all with brain tumours then that would be considered significant," said Prof Jones.
'Matter of chance'
"Six from the same area of the same age would also indicate that something of significance was happening to cause this. I'm concerned about this being one school and believe it's more than coincidence."
He said he had seen brain tumours in farmers from north Wales and some of them had eaten lamb from the farm when it was too high in radiation from the fall out in Chernobyl to sell on the open market.
"But it's a complex issue," he said. "It's complex in north Wales because we know that a lack of genetic variation in rural areas can cause brain tumours in children and young adults.
"For adults, chemicals such as those used on farms can be considered, as well as natural and unnatural environmental factors. Chernobyl can't be ruled out as being an influence even now."
He said a quarter of the cancers that developed as a result of Nagasaki and Hiroshima developed 30 to 50 years after the bombs were dropped.
The oncology team treating the four school friends and other brain cancer sufferers from the area say that the figures for north Wales as a whole are not worrying but the Ardudwy cluster is of concern.
"It is unusual for a rare cancer to be clustered like this," said Dr Niladri Ghosal, consultant clinical oncologist with Betsi Cadwaladr University Health Board.
"Is it a matter of chance or is it not? It needs specialist teams to investigate that. The experts are in Public Health Wales (PHW)."
PHW told BBC Wales it had carried out an initial assessment in line with its usual procedures for investigating potential clusters.
"Our assessment showed that there was no unusual pattern of brain cancers and that at this stage no further investigation was required."
Manylu is broadcast on BBC Radio Cymru at 12:30 GMT on Thursday 6 November.