Simon Weston learns of grandfather's history in two wars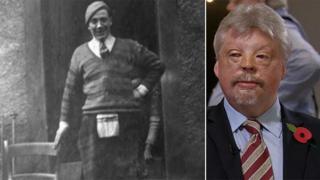 Falklands veteran Simon Weston has discovered his grandfather had a role to play in both world wars - helping to keep fighters in the air.
Carpenter Walter Weston's service record was researched for the BBC's The People Remember series.
Photos Mr Weston had never seen before were also uncovered - including one in a kilt revealing Walter's Scottish ancestry.
"I'm thrilled," he said. "To find this about my grandfather is fantastic."
Walter Weston was a barrel-maker and all his grandson knew about him was his name and that he may have fought in the infantry in World War Two.
But The Imperial War Museum London discovered he had joined the Royal Flying Corps - the forerunner of the RAF - as a carpenter in 1918 towards the end of World War One.
Then in WW2, he was working as a joiner with ground crews to ensure Spitfire and Hurricane fighters stayed in the air.
In WWI, the early aircraft were made of wood, so carpenters had a busy time repairing them.
"It was an essential occupation - you can see how his skills as a cooper would be necessary to put the curves in the wood and to be able to do it so quickly," Mr Weston said.
"They turned out barrels very fast in the those days."
"I never knew what he looked like as a younger man. I have memories of going to see him when I was young and he lived in Edinburgh.
"He looked a lot different then. I'm thrilled to see him in a kilt as well. To find out I've got Scottish ancestry - I thought I was pure Welsh! It's nothing to cry about though, I'm sure."
Mr Weston, from Nelson, Caerphilly County, joined the Welsh Guards at the age of 16.
He suffered 46% burns to his body and face when the Sir Galahad came under fire during the Falklands War in the south Atlantic in 1982.
He told the programme how he was still having operations but modern techniques was helping to soften his scarring.