Floods warning as more rain expected over six hours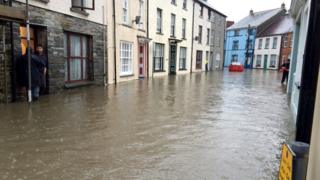 Up to six hours of heavy rain is expected to fall on parts of Wales that are already dealing with extensive surface water flooding.
Friday saw numerous flooding incidents in Pembrokeshire and Ceredigion after intense downpours early in the day.
The Met Office has issued a yellow "be aware" warning for the south Wales coast from Pembrokeshire to Monmouthshire on Saturday.
Drivers are warned that roads are the most likely to be affected.
The Met Office said a further 20-30mm ( 0.7in-1.2in) of rain, perhaps more, is likely in southern parts of Wales from 08:00 on Saturday until 14:00 GMT.
The warning said: "Coming on top of Friday's very wet conditions, the ground will be saturated, giving rise to the risk of surface water flooding."
BBC Wales weather presenter Behnaz Akhgar added: "There could be less rain on Saturday morning than there was on Friday morning but it will be falling on already saturated ground.
"Some of the rain in the late morning or early afternoon could be quite intense.
"The heaviest rain is likely to be in the north but that will be less prone to flooding."
Pembrokeshire council said it took more than 100 flood-related calls on Friday with the north and north east of the county the worst affected.
It said: "Roads were reported flooded up to knee high in several places. Many of the road flooding issues have been caused by debris dislodged in the heavy rain causing culverts to block.
"Other problems have been caused by vehicles driving through deep water, causing 'bow waves' to wash into and flood properties.
"Several of the flooded roads have had drain covers dislodged."
In Ceredigion, about 20 properties in Cardigan were hit by surface water flooding, with St Mary Street reported to be knee-deep in flood water in places.
The Angel Hotel was affected for the second time this year.
Ceredigion council said the county's flood plan had been put into operation.
Natural Resources Wales had three flood alerts in place on Saturday including north, west and south Pembrokeshire and north Gower.
The Met Office yellow warning includes Carmarthenshire, the south Wales valleys and Cardiff and the Vale of Glamorgan.