Pembroke Dock cemetery for soldiers who died at home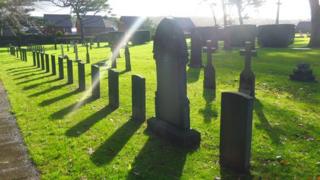 One quiet corner of Pembrokeshire is the last resting place for 75 men who served in two world wars.
But what makes the graveyard at Pembroke Dock so unique, is that it is believed to be Wales' only dedicated war cemetery.
We are all familiar with the image of the neatly organised, pristine war cemeteries in Belgium and northern France, close to the battlefields where so many thousands were killed in action.
But thousands of servicemen and women also perished here at home, from injuries, illnesses and accidents, and their graves are scattered across the UK.
The cemetery in the former garrison town of Pembroke Dock is owned by the Ministry of Defence.
The graves date from 1860 and include 45 from World War One and 30 from World War Two.
Martin Cavaney, who is coordinating the town's bicentenary celebrations, said: "There are some family graves but in the main part they were all serving personnel: Army, a few Navy and RAF serving in the world wars."
"It's certainly a hidden secret, not many people know it is Wales' only military cemetery. But local people know about it and we have services here."
Owen Vaughan has spent years researching gravestones right across Pembrokeshire, mainly of servicemen who died between the wars, and is soon to have a book published about the military cemetery.
"We are losing a vast amount of knowledge from headstones of men who served," he said.
"Because no-one's looking after them, that knowledge is being lost."
"During the 19th Century, Pembroke Dock was a very transient community. So if a soldier died and his headstone starts to fade, there are no family members left now to maintain.
"So it's up to us to find the ones that are decaying as they must be recorded and researched for future generations."
The Commonwealth War Graves Commission (CWGC) looks after the graves of all servicemen and women who died during each of the world wars, regardless of where or how they died.
Andy Knowlson, of the CWGC, said: "There are cemeteries within 153 countries - altogether, 23,000 sites. Of these 13,000 are in the UK. These are people who died in service, it could be of wounds or training accidents or they could have been injured and brought home."
Details of all its graves - and the records of the fallen - are searchable on the CWGC website. An app has also been created.
Mr Knowlson added: "Wherever the war casualty is, abroad or in the UK it has an equal status. There is more awareness now with the centenary with the public - it's not just France or Belgium, it's global - it was a world war."