Give voters right to 'throw out' AMs, says Kirsty Williams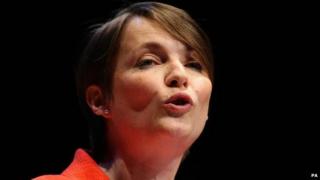 Voters should have the right to throw out their local Assembly Member if they behave improperly, says Welsh Liberal Democrat leader Kirsty Williams.
Ms Williams wants to see a so-called "right of recall" introduced so AMs can be removed between elections.
The Lib Dem scheme would require 20% of voters in a constituency to sign a petition for a by-election.
There would then be a referendum, and if passed, a by-election would go ahead.
A similar plan for MPs is working its way through Westminster, although critics say it has already been watered down.
Raging debate
In a speech in Cardiff Bay on Monday, Ms Williams said: "There is a debate raging about the right to recall in Westminster. I welcome that debate. In Wales, it hasn't been on the agenda at all.
"Today, I will put it on the agenda and state clearly that I believe the people of Wales should have the right to recall their assembly members.
"The Welsh Liberal Democrats would give people proper powers for holding their politicians to account.
"There is something fundamentally wrong with the fact that once elected, a politician can do as he or she pleases and their constituents can do nothing about it for five years."
'Radical reforms'
Currently, an assembly member would only lose their seat outside of an election if they were sent to prison for more than 12 months, Ms Williams said, adding: "That's a pretty high bar and I believe it must change."
She said a Right to Recall system would put power into the hands of the people and it was time that Wales trusted in its people.
Under the UK government-backed plans for MPs there would be a Westminster by-election if 10% of constituents sign a petition after a sitting MP is either sentenced to more than 12 months in jail, or banned from the Commons for more than 21 days.
Campaigners have said that threshold is too high and would mean very few MPs would ever be subject to recall.
Ms Williams also called for an increase in the number of AMs from the current 60 to to 80 or 90.
It follows a recommendation by the Silk Commission that the assembly should have more members as more powers are devolved.
Analysis from Daniel Davies
We're told voters are fed up with politics as usual.
It helps explain the popularity of Scottish independence and the rise of UKIP.
Politicians want to show they've heard the public's groan of dissatisfaction.
That's why Kirsty Williams derides "the old guard" in her speech today.
Arguably, her party has more need than most to show it's responding to the anti-politics mood.
The Liberal Democrats had to compromise to form a coalition in 2010, and they've paid a heavy price at the ballot box since.