Wales NHS patient watchdogs to be 'strengthened'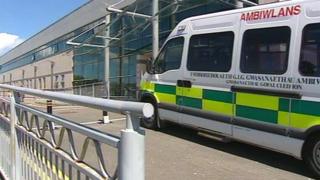 Patient watchdogs could be strengthened under plans to boost their ability to monitor health services in Wales.
Health Minister Mark Drakeford has launched an eight-week consultation on plans to reform community health councils (CHCs).
The Board of CHCs in Wales would be given a more powerful role to ensure more consistency and effectiveness.
Former Welsh NHS chief executive Anne Lloyd has said CHCs are "ill equipped" to challenge health board decisions.
Reform of the patient watchdogs was one of several recommendations in a review in 2012 by Prof Marcus Longley.
Ms Lloyd's subsequent report published on Monday called for CHCs be stripped of their powers to refer controversial decisions made by health boards to the minister.
As well as questioning their expertise, she also said CHCs needed to ensure they were "truly representative" of their communities.
However, Mr Drakeford said that "for the time being" CHCs should keep their power of referral, which would be strengthened by the planned reforms.
'Significant challenges'
The Board of CHCs in Wales would be given a stronger role in managing the performance of the councils.
Its chair would be selected in future as a major public appointment rather than elected by CHC members from amongst themselves, while its director would be upgraded with the title of chief executive.
The two CHCs serving northern and southern Powys would also be replaced by a single watchdog, resulting in one CHC for each health board.
Peter Meredith-Smith, director of the Board of Community Health Councils in Wales, said they welcomed the consultation and hoped it would result in a "strengthening" of their role.
"Given the significant challenges facing the NHS in Wales, and the huge programme of service change that it faces, the role of the Community Health Councils in Wales has never been more important," he said.