Welsh food and drink companies at exhibition in Shanghai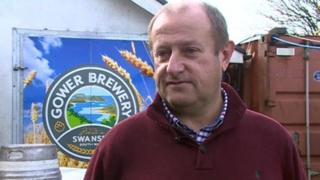 Welsh food and drink companies are to attend an international hospitality event in China in a bid to increase sales in Asia.
It is hoped the three-day event will help boost exports to the continent.
The exhibition in Shanghai is a chance for companies to display their products to buyers from China and neighbouring countries.
Many Chinese customers increasingly have money to spend and have developed a taste for luxury western goods.
Penderyn Whisky is one of the 11 companies at the exhibition, which runs from 12 - 14 November.
It has just made its first major step into the Asian market with an order to export 10,000 bottles.
Exhibitors from Wales
Burts Biscuits and Cakes Ltd
Dailycer UK
Dansco Dairy / Dairy Partners
Gower Brewery Company Limited
The Good Carb Food Company (Lizi's)
Trioni Ltd
Abergavenny Fine Foods
Caws Cenarth Cheese Ltd
Purple Moose Brewery Ltd
Welsh Lady Preserves
Welsh Whisky
Gower Brewery is at the other end of the scale; it started three years ago this week and produces its beers at the back of a pub in Oldwalls, Llanrhidian.
Steve Jefford from the brewery said: "China is an enormous market and it's a prestigious thing to have European products such as beers, foods, so we're hoping for a small share of that market.
"We're hoping that we can perhaps get one order a month for the next year and build it from there."
The Welsh government is targeting 30% growth in the food and drinks industry by 2020.
Deputy Minister for Farming and Food Rebecca Evans said: "Our export market to countries including China is anticipated to continue to grow significantly, driven by factors such as increasing disposable income and a growing taste for international food."
But companies from Wales face stiff competition at the exhibition from up to 2,000 other firms from around the world which are all vying for the attention of more than 30,000 buyers from across Asia.