Pembrokeshire flooding returns as heavy rain continues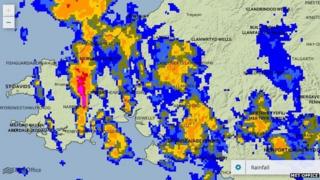 Pembrokeshire has been hit by flooding for the second time in a week after heavy rainfall early on Tuesday.
Roads and properties in Milford Haven and Pembroke Dock as well as Neyland and Haverfordwest have been affected.
Mid and West Fire Service said it was taking lots of calls in Carmarthenshire after the rain clouds swept in.
Natural Resources Wales has one flood warning in place and three flood alerts for the Western Cleddau, south Pembrokeshire and Carmarthenshire.
The Met Office issued a yellow warning of heavy rain and strong winds and said localised flooding was a possibility as fallen leaves blocked drains.
Pembrokeshire council initially said it had reports of six flooded roads in Milford Haven and five in Pembroke Dock.
Mid and West Wales Fire and and Rescue Service confirmed a "large quantity" of flood water at Havens Head Business Park in Milford Haven was disrupting local traffic.
The council said further reports of flooding had come in for Haverfordwest, a road in St Davids, the A487 Roch to Newgale road and two locations on the A4076 near Johnston.
A fire crew was also on its way to a report of flooding at a business premises in Johnston between Haverfordwest and Milford Haven.
The fire service passed on a number of calls about blocked drains and roadway flooding to the council.
It later said it was getting lots of calls about flooding in Whitland, Carmarthenshire and Letterston, in Pembrokeshire.
NRW's flood warning is for the River Hydfron at Llanddowror, Carmarthenshire, and the alerts are for the catchments of the Taf and Cynin, for rivers in south Pembrokeshire and for the Western Cleddau.
A Pembrokeshire council spokesperson said: "Today's flooding has mainly affected road surfaces so council staff have been out and about putting up warning notices on the worst-affected stretches.
"Once the situation has eased staff will be dealing with any aftermath such as clearing debris and replacing drain covers etc."
The mid and southern counties of Wales are expected to be the most likely affected by the continuing rainfall.
Earlier flood alert warnings for rivers in Bridgend county were stood down.
South-west Wales was badly hit by storms over the weekend, with several flooding incidents in Pembrokeshire and Ceredigion following a yellow "be aware" warning for the south Wales coast.
The yellow warnings are currently in place up to Friday.
BBC Wales weather forecaster Derek Brockway said: "We're not out of the woods yet.
"A warning remains in force for southern counties tonight for another 20 to 30mm of rain.
"This evening outbreaks of rain will spread north with heavy showers after midnight but it should turn drier and clearer towards the end of the night."