Snowdonia's beauty would be 'enhanced' in pylon project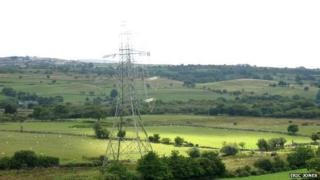 Removing 160ft (50m) tall pylons from Snowdonia will significantly enhance its natural beauty, say officials.
The National Grid shortlisted the national park, and the Brecon Beacons, to have electricity pylons replaced with underground cables.
The £500m project will remove the towers from 65 areas across Britain over eight years, costing the bill payer 22p a year.
Snowdonia authority's Jonathan Cawley was "very positive" about the scheme.
"It will have a direct and significant impact in enhancing the beauty of the park," the director of planning and cultural heritage said.
"Walkers and climbers will be positive about this.
"The pylons detract from the natural beauty - if they could be removed, that's quite exciting, really."
The National Grid's Chris Isaac admitted the scheme would be a "a challenge".
He said a 3 mile (5km) stretch in the Beacons and a 4 mile (7km) plot of Snowdonia could be made pylon-free.
Mr Isaac said a panel of experts and landscape architects will study the areas and decide the best way forward.
"That might be things like putting the connection underground or it might be re-routing, so putting the pylons some place else or change the type of pylons that we use," he said.
"We're looking at what we can do because we know people value these really important landscapes," Mr Isaac said.