Kevin Chambers freed on appeal after door banging death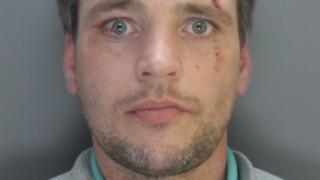 A hammer-wielding drug addict who was jailed after a woman died of a heart attack when he terrorised her at her home, has been freed.
Kevin Chambers, 38, of Llandudno, appealed his two-year sentence for having an offensive weapon and damaging Carole Wall's door in September 2013.
The hairdresser, 58, collapsed while dialling 999.
On Tuesday the Court of Appeal slashed his term to 16 months, which meant he was eligible for release.
Chambers was high on a cocktail of drugs and thought a gunman was after him when he began banging on Mrs Wall's patio door.
He was jailed at Caernarfon Crown Court in July after admitting possessing the hammer.
On Tuesday, the court was told that in the hours before the offence Chambers, who had an ulcer, had been taken to hospital vomiting blood.
He discharged himself after treatment and went to a friend's house where he self medicated with heroin and cocaine, which made him delusional and paranoid.
Chambers thought someone was after him with a gun so armed himself with a claw hammer and left the house.
Undiagnosed heart disease
He ended up outside Mrs Wall's house, which she shared with her husband and son.
The family heard loud banging on the patio doors and saw Chambers with the hammer. As Mrs Wall attempted to call the police she collapsed and died.
She was later diagnosed with heart disease.
Following his arrest, Chambers was kept in hospital for two weeks because of his paranoid state.
When he found out about Mrs Wall's death, he was said to be shocked and remorseful.
Sentencing judge David Hale said Mrs Wall's husband would always believe his wife had been "murdered" by Chambers but giving judgment on Tuesday Mrs Justice Cox said: "We agree that the tragic consequence had to be factored into the sentence imposed."