NHS attacks are 'politically motivated', says Health Minister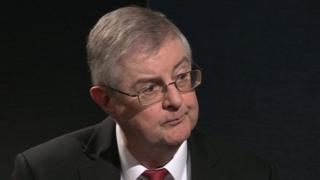 Attacks on the running of the NHS in Wales have been criticised by the Health Minister for Wales as being "entirely politically motivated".
Mark Drakeford said the negative media stories in recent weeks had been a "concerted, entirely cynical, politically motivated attack on Wales".
He accused critics of using Wales for political advantage as "a place they think they can kick about".
He added the political row was the part of his job he disliked the most.
Speaking to the BBC's Huw Edwards for the Wales Report, the minister said he had never started a quarrel with anyone about the running of the NHS.
However, he argued that criticisms of the health service in Wales were "for purposes that have nothing to with Wales by people who have no interest in Wales".
'Putting things right'
The political row between the UK and Welsh governments erupted when the Daily Mail newspaper published reports claiming to expose poor care and serious failings in the Welsh health service.
Responding to the critics, Mr Drakeford said he had an obligation to speak up for the people who worked in the NHS, and those who used the "first-class" service in Wales.
He said: "When things go wrong, we attend to them and put them right.
"That is the big story about the health service in Wales".
You can hear more on the issue in a health special edition of the Wales Report at 22:35 GMT on BBC One Wales on Wednesday 12, November - or watch again on the BBC iPlayer.