Expert Dan Graham helps cut drowning deaths in Uganda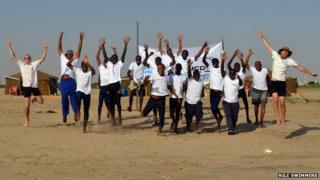 A water safety expert in north Wales is visiting Uganda to help reduce drowning rates by teaching life-saving skills.
Dan Graham from Bala, Gwynedd, teaches swift water and flood rescue around the UK for a firm based in Llangollen, Denbighshire.
He is the co-founder and a trustee of the Nile Swimmers, a charity dedicated to training community leaders in Africa in water safety skills.
The trip aims to extend a project he began in Sudan to teach people to swim.
Mr Graham, 31, has been invited to work with other international drowning prevention charities to help Ugandan organisations, including police and government officials, as well as swimming and sports groups.
He explained that Africa has one of the world's highest drowning mortality rates due to people's daily lives being closely linked to water.
"Despite rivers and lakes being used for daily chores, fishing and transportation, very few people in Uganda know how to swim," he said.