Children in Need's £1.3m from Wales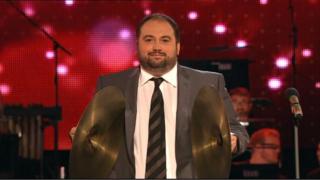 The BBC's Children in Need appeal has raised more than £1.3m in Wales after an evening of fundraising and appeals.
Across the UK, more than £32.6m was raised on the night by the annual telethon, breaking last year's record of £31.1m.
The final total is expected to be higher once all donations are in.
It followed a day of fundraising across Wales and a gala hosted by opera star and BBC Radio Wales presenter Wynne Evans at the Newport Centre.
Jemma Wray, Children in Need national head, Wales, said although the money raised in Wales did not break any previous records, the amount did not take into consideration money donated by texts and on social media, which do not show where a donor comes from.
She added: "The money that the public raised in Wales is truly life changing for children and young people."