Welsh grit stocks bolstered ahead of winter weather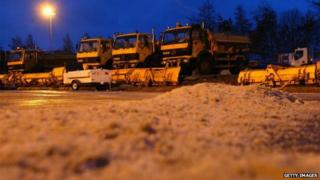 Blades to convert ride-on lawnmowers into snowploughs and thousands of tonnes of salt have been lined up in case of freezing winter weather.
Some councils started sending drivers on reconnaissance last month to prepare their routes in case it snows.
Powys, which covers a quarter of Wales, has stockpiled 22,500 tonnes of gritting salt - while Newport has doubled its stocks to 2,500 tonnes.
Councils have at least 1.5 times more salt than they expected to need.
Authorities said they were also looking at ways of making stocks go further.
Monitoring
Neath Port Talbot council began sending out drivers to familiarise themselves with key roads at the start of October.
They say this has helped them plan the shortest routes to cover the county, speeding up their response and avoiding costly returns to the depot for resupplying.
Torfaen has bolstered its snow ploughing fleet by purchasing blades which can be fitted to ride-on lawn mowers.
Along with Conwy, the authority has also invested in a network of weather monitoring stations which will provide more accurate and up-to-date road and air temperatures.
Stocks of natural salt mined in Cheshire are also being mixed with a chemical preparation to help the grit remain on roads for longer.
But the key to beating winter road problems will be relying on cooperation, say authorities.
Working together
"If we were to have a very severe winter it will be necessary for all authorities to concentrate their winter maintenance actions on the core strategic road network," stressed a spokesperson for Pembrokeshire council.
"We are, however, reassured that… our resilience is far greater than in previous years.
"Across Wales there are also contingency plans in place for strategic storage of "emergency" salt together with arrangements for mutual aid between authorities."
On average, councils plan on being able to treat about a third of all roads, prioritising the main arterial routes.
In the case of Gwynedd, they said this is an undertaking equivalent to gritting a length of road running from Caernarfon to Luxemburg.
But Conwy council cabinet member Dave Cowans urged the public to spare a thought for the men and women who need to put the plans into action.
"Our staff are out at all hours and in all weathers and I'd like to thank them for their commitment and hard work," he said.
"It's important to remember when we are waking up on Christmas morning or ringing in the New Year, council staff may be out in sub-zero temperatures, making sure roads are safe."