Wales Rally GB's 'massive' opportunities for north and mid Wales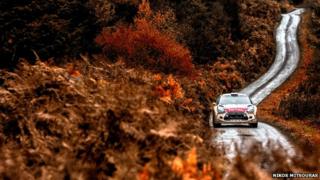 Hosting the Wales Rally GB in north and mid Wales has given businesses "massive" commercial and promotional opportunities, organisers say.
The three-day race, which came to a gripping end on Sunday, has seen 160 competitors driving in the final stage of the World Rally Championship.
Frenchman Sébastien Ogier won the event finishing 37.6 seconds ahead of Finn Mikko Hirvonen
But race organisers say it has been the region that is the real winner.
Edwina Hart, the Welsh government's economy minister, added that the event - which has attracted 80,000 spectators - would raise the area's profile "nationally and internationally".
It is the second year the rally has started in north Wales after moving from its previous base in Cardiff.
Last year, the Welsh government said it brought £10m to the local economy in terms of business brought in for hotels, shops and restaurants.
THE RALLY IN NUMBERS
80,000 spectators watching the race in north and mid Wales over the last three days, with many visitors from Ireland and Europe
20,000 people visiting the rally's service park on Deeside
More than 400 members of the media from 30 countries all over the world covering the event
Rally broadcast to 60 million TV viewers in 150 countries
160 competitors from 28 countries, from as far afield as Japan, Australia, New Zealand and Argentina
The course takes drivers through forests in Snowdonia, Denbighshire and mid Wales.
Entrants included Elfyn Evans, 25, from Dolgellau, son of former British rally champion Gwyndaf Evans. It has been his first full year in the fastest WRC class, and he finished fifth overall in the Welsh race.
And while he will be celebrating a great season of racing - so are businesses who have been involved in this week's events.
Colwyn Bay-based Jolly Good Van Hire, which has hired out a number of its vehicle over the weekend, said it was delighted by the boost.
"We are absolutely ecstatic to be so actively involved in the rally," said Antony Frost.
"Covering so much of north Wales, the event is fantastic for us."
As well as the races, the event's service park in Deeside - used by the competitors and their crews - also attracts people to the area.
About 20,000 visitors went to the park - taking up almost 10 acres (4 hectares) within Toyota Manufacturing's engine plant site - to take part in activities and watch entertainment. That is up on the 15,000 who attended last year.
Thousands also attended a firework launch in Eirias Park Stadium, Colwyn Bay, on Thursday night, from where the rally began.
Mr Taylor, managing director of Wales Rally GB, said the rally was a huge opportunity for local businesses.
"We are delighted that so many local businesses are not just supporting Wales Rally GB, but really taking advantage of it," he said.
"As a major international event, the rally presents a massive amount of commercial and promotional opportunities and so it's great to see a growing number of companies profiting from its presence in north Wales."
Mrs Hart said the local economic impact of the rally "is clearly in evidence this year in north and mid Wales".
"Hosting major sporting events in Wales not only helps raise the profile nationally and internationally but brings very real benefits to local businesses, who are able to become involved in supplying the event and providing high quality Welsh goods and services to event owners, competitors, visitors and spectators," she added.