Pupils' wheelchair access concerns - children's commissioner
Many secondary schools are not accessible to pupils in wheelchairs, the children's commissioner has warned.
Keith Towler is deeply concerned, adding: "You only get one crack at a decent education and there should be no barriers."
Parents are left "unhappy, stressed and having to fight for the right" for children to be educated alongside their friends, says his report.
The education minister will study it but said councils must "step up".
Mr Towler said councils were still not following guidelines on improving access, 10 years after they were recommended.
"If you're sitting in a wheelchair, I don't see why your education should be marginalised - it shouldn't be happening," added Mr Towler.

CASE STUDY:
Parent Dr Sue Hurrell researched the access at 120 schools in Cardiff after her daughter Imogen, nine, faced obstacles using her wheelchair in primary school.
"Imogen's happy here at Roath Park but when she first started things weren't particularly accessible and then I realised the problem was more widespread across Cardiff schools and I decided to do my research back in 2012.
"I received audits of each school, analysed them and sent the research back to the council and explained we were in a situation when [back then] around half of high schools in Cardiff were not usable by a wheelchair at that point, and it would be quite a lot of work to make them accessible."

Since 2010's Equality Act, councils have had a duty to alter public buildings to make them accessible.
But schools are exempt because it is considered to be part of a school's planning duties.
Local Education Authorities (LEAs) and schools were told to have accessibility strategies and plans in place by April 2004 by ministers.
The guidance makes direct reference to the need for schools to improve the physical environment so disabled children and young people can access education.
But according to the children's commissioner's report, councils are still not following the guidelines 10 years later:
Eleven out of 22 LEAs in Wales either have a weak document that does not provide sufficient information on their intentions for improvement or they do not have any strategy at all
Of the other 11 LEAs, six had plans which were either out of date or were merely statements of intent
With the remaining five, only two accessibility strategies resembled what was intended by the legislation
Source: Freedom of Information request 2013, Children's Commissioner
Problems range from a lack of disabled toilet facilities to narrow corridors and no lifts between floors.
Mr Towler says LEAs and schools "must be held to account" and ministers must ensure councils and schools fulfil their duties.
Education Minister Huw Lewis said he wants to take a close look at the report but said all 22 councils needed to "step up".
"It's there in black and white the local authority has to make sure through its plans that accessibility and quality of access are an essential part of the plan for new buildings or refurbishment," said Mr Lewis.
Meanwhile, he said problems would be addressed with investment in school buildings worth £1.4bn over the next few years.

CASE STUDY: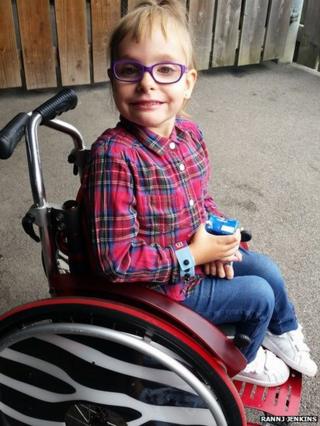 Rannj Jenkins said she struggled with Bridgend council when trying to find suitable schooling for her daughter, Ashley.
She said Ashley, who has spina bifida, had to be removed from a number of Bridgend schools over the years due to a lack of proper staffing and facilities.
"It's been a nightmare," she said. "You dread getting up in the morning because you might get a letter from the council saying you can't take your daughter to school."
Although happy at her current school, Bryncethin Primary, Ashley's start there in September 2013 was delayed when her parents were told staff would not be able to meet her specific needs.
Ms Jenkins said: "The school has been really good with us, but there is only so much they can do when the council won't provide the staff."
Bridgend Council said it could not comment on specific details, but was satisfied Ashley's needs were being met.