914 motorists caught using mobile phones in Wales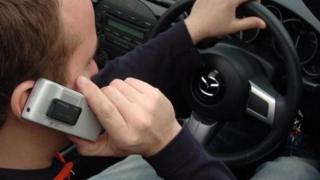 More than 900 motorists were caught using their mobile phone while driving in just two weeks in Wales.
Officers from all four Welsh police forces took part in the campaign during October.
A total of 914 drivers were caught and issued with fixed penalty notices or Traffic Offence Reports (TORs).
Chf Insp Darren Wareing, of North Wales Police, said: "It is disappointing that so many drivers chose to ignore our warnings."
Caught on their phones
North Wales Police 53
Gwent Police 72
Dyfed Powys Police 447
South Wales Police 342
He added: "Even the most experienced or competent of drivers can be easily distracted and a slight lapse in concentration can have serious consequences."
In north Wales offenders are issued with TORs, which offers them a choice of an educational course, a fixed penalty and/or driving licence points or an appearance in magistrates' court.