Man with guns in car boot in Powys drove from Austria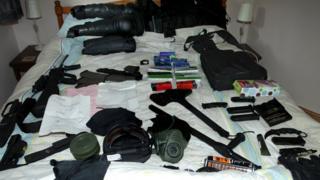 A gun enthusiast from Austria was able to drive to Wales with a car boot packed with weapons, Swansea Crown Court heard.
Manuel Wallner, 23, took guns to a "close protection" course in mid Wales - where the most lethal weapon to be used would have been a rubber knife.
He admitted possessing illegal weapons and was given a suspended jail term.
The judge questioned how he was able to continue his journey despite declaring the weapons in Calais.
At an earlier hearing, where Wallner admitted nine offences of possessing illegal weapons, the judge demanded an explanation as to how the weapons were brought into Britain.
The court was told there had been "a lack of replies from the French" apart from an email from Interpol saying too many people worked at Calais to discover who had dealt with Wallner and CCTV coverage was wiped every two weeks.
WEAPONS HAUL
Semi automatic rifle
Semi automatic Beretta pistol
280 rounds of ammunition
Knives
Tomahawk
Extendable baton
Gas mask, body armour and balaclavas
Judge Keith Thomas said there had been "a gaping hole in security arrangements through which Wallner had been able to walk".
Patrick Griffiths, prosecuting, said there was no doubt Wallner successfully applied, while in Austria, for a European Firearms Pass, and had, according to him, been assured by an official that would be sufficient to take guns into the UK.
However, the pass did not override the laws of individual countries and in the UK the guns and ammunition were "definitely illegal".
Police were only alerted when two other course members, former Armed Forces personnel, became uneasy after being shown the haul and then told an instructor at the course in Crickhowell, Powys.
After his arrest, Wallner protested that he had been open and frank with the European authorities and had no reason to believe he was breaking any UK laws.
He was sentenced to 18 months suspended for two years and his weapons were confiscated.
A UK Border Force spokeswoman said it was the responsibility of the person importing the firearms into the country to notify the relevant authority.