UK Investment Summit: Firms spend £100m extra on research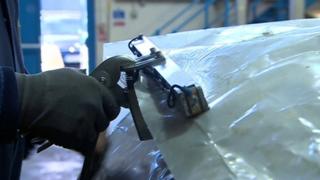 There has been a major increase in investment by firms in Wales to create the hi-tech products of the future.
It comes as a key conference opens in Newport looking to secure even more backing for the most innovative firms in Wales.
An extra £100m was spent on research and development by businesses here in 2013, according to official figures.
A total of 1,100 jobs were announced on the eve of UK Investment Summit Wales.
The latest official figures from the Office of National Statistics (ONS) show:
Welsh businesses spent £369m on research and development (R&D) in 2013
It represents an increase of 37% on the previous year.
4,000 people are employed in area, which is the highest for a decade.
But Paul Byard from the Engineering Employers Federation (EEF) said even more needs to be spent to make Wales more competitive.
"Wales only spends about 2% out of the UK [spending] on R&D but we need to increase that to 7-7.5% so we've got far more of a rate of innovation going on.
"Having said that we've just gone through a recession were there's been a lot of cost containment, so to switch from that to growth is going to be an interesting move."
A CASE IN CONCRETE
One of the companies at the Celtic Manor conference is Concrete Canvas, which employs 30 people in Pontypridd.
Its "instant" shelters have been used in war and disaster zones but now the ground-breaking product is also used to secure ditches, drains and to stop erosion.
Investing in research and development to improve and create new and better products has driven sales, which double every year.
Will Crawford, company director and co-founder, established the business after university and is selling to 40 countries around the world from Chile to Russia.
"Research and development is the heart of our business, the core that everything we do," he said.
"We invest very heavily to stay ahead of the competition and to ensure we maximise the value of our intellectual property portfolio."
Employers also want more to be done to ensure research and development at universities can be manufactured and sold.
Richard Thomas worked for British Steel and is now in a senior role at University of Wales Trinity St David (UWTSD).
On top of what businesses invest in R&D, Welsh universities spend another £264m on it, according to the most recent figures.
Mr Thomas said universities were becoming more focused on making sure its research is shaped to help business and the economy.
"It's critical," he said.
"We've always worked very closely with business so our research has been applied, very close to market. That suits us as it's where we're coming from."
DRIVING FORWARD WITH HELP
Keen cyclist and design engineer, Calvin Williams, has developed a four-wheeled bike in Swansea after he had a cliff fall in 2004 and spent some time in a wheelchair.
It can be used by able-bodied and disabled riders to compete in outdoor competitions.
He developed the prototype Project Enduro and already had interest from Japan, South America and Canada but said support from UWTSD and Welsh government had been essential.
"We had a very loose brief - design a four wheeled bike to be used by as great a range of people as possible."
"At very level, we've had support from govt, academia and business - Welsh business have given us a lot of help in product development.
Meanwhile, speaking at the conference, First Minister Carwyn Jones will announce a further five years of funding, worth £8.1m, to support training at Airbus in Flintshire.
The company employs 6,000 people at Broughton.