Wales cancer drugs fund petition handed to David Cameron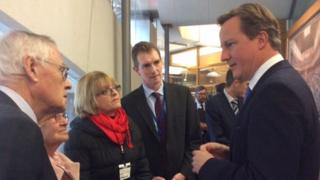 Cancer drugs campaigners have handed the prime minister a petition of nearly 100,000 signatures calling for equal access to treatments in Wales.
Members of One Voice for Wales met with David Cameron on Thursday.
They are calling for a cancer drugs fund and delivered the same petition to the Welsh assembly earlier this month.
Wales Health Minister Mark Drakeford has already said there was "no intention" of having a cancer drugs fund in Wales.
Welsh patients suffering from all illnesses, including cancer, must apply for health board funding for the drugs through the Individual Patient Funding Request (IPFR) system.
Following a consultation on the IPFR system, the Welsh government announced changes that it said would make it easier and quicker to prescribe new drugs.
The changes are also designed to ensure more consistency in a system that operates on a regional basis through individual health boards.
Health ministers in England set up a cancer drugs fund in 2010 and it is currently worth £280m a year.
Ann Wilkinson, from Usk, Monmouthshire, has been diagnosed with bowel cancer and fought to obtain the specialist life-prolonging drug Avastin to treat her bowel cancer but had her initial application refused.
After delivering the petition to No 10, the 76 year old said: "I have lived in Wales for 28 years with my husband Allan after moving from Yorkshire.
"We were basically told we would have to go back to Yorkshire for me to get this treatment, which can't be right.
"Sadly, many others are in the same position.
"When we delivered the petition to the Senedd some weeks ago, the Welsh health minister refused to meet us and we simply weren't listened to.
"I was therefore delighted that the prime minister took the trouble to listen to our concerns.
"The Welsh government needs to see what is being done in England and offer the same."
Monmouth MP David Davies said "fighting for our Welsh NHS" remained one of his top priorities.
'Cost-effective treatments'
The Welsh government said it remained committed to fighting cancer.
"But while Avastin has been appraised by the National Institute for Health and Care Excellence (NICE) for use in the treatment of certain cancers it has not been approved for routine use in the NHS in England or Wales," it said.
"If a clinician believes a patient will gain significantly more benefit from a treatment which is not routinely available on the NHS they can apply to their health board for funding through the individual patient funding Request process.
"In Wales, all medicines approved for use by either NICE or the All Wales Medicines Strategy Group are routinely available to all eligible patients. We are proud that patients have such access to proven and cost-effective treatments for all conditions.
"We will not be replacing our system with a cancer drugs fund - the chair of the cancer drugs fund in England has admitted it provides funding for drugs which have 'no impact on survival' and 'uncertainty' about whether quality of life is improved or not."