Housing associations give tenants lessons in finance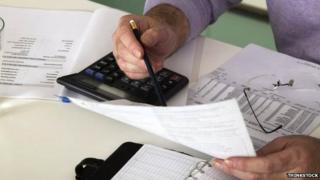 Housing associations say they are increasingly offering lessons to tenants on how to deal with money.
Budgeting and debt advice, financial skills training and support at tribunals were offered by all groups surveyed by Community Housing Cymru.
Savings for tenants ranged from £76,000 to £1m per organisation in the six months to October.
A bill to include financial literacy as part of the school curriculum will be debated in the assembly on Wednesday.
'Struggling'
Stuart Ropke, chief executive of Community Housing Cymru (CHC) said: "Welsh housing associations undertake huge amounts of preventative work via their own anti-poverty and financial inclusion and education programmes.
"With funding cuts to local authorities and advice providers, our members are providing much more than the traditional landlord role, and are coming up with initiatives to support tenants, many of whom are struggling financially because of welfare reforms."
The survey questioned ten housing associations, more than a quarter of CHC's membership.
Bethan Jenkins, the Plaid Cymru AM behind the bill to introduce money lessons to schools, said: "Financial education is a core life skill.
"The sheer fact that our frontline services increasingly see its importance bears that out."
Referring to credit unions, she said: "They're going into schools setting up banks with children, making them financially literate but that's only off their own backs as opposed to being off the backs of the Welsh government."