Police call for public's help to stop terrorism threats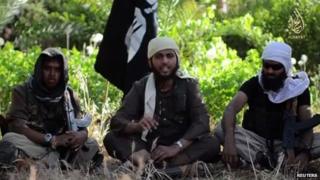 Countering terrorism should not be the sole responsibility of the police and security agencies, says the head of counter terrorism in Wales.
Assistant Chief Constable Nikki Holland said the public and businesses also had a part to play.
Police have launched a week-long, anti-terrorism campaign in Wales.
Officers are holding talks at venues including schools and shops to raise awareness of the threat of terrorism.
"The danger posed by violent extremists has evolved," said Ms Holland from South Wales Police.
"They are no longer a problem solely stemming from countries like Iraq and Afghanistan, far away in the minds of the public.
"Now, they are home grown in our communities, radicalised by images and messages they read on social media and prepared to kill for their cause."
Her comments come after pictures obtained by The Wales Report emerged showing a man holding an Islamic State poster in Cardiff city centre in July.
Meanwhile, two young men from Cardiff have gone to fight for Islamic State (IS) in Syria.
During the awareness week there will be a focus on five key areas where action by the police, businesses and the public can help prevent terrorism.
They include crowded places, transport hubs, preventing violent extremism, terrorist financing, and the tools that terrorists need to operate.
Ms Holland added: "Experience tells us that terrorists have targeted busy, well-populated places to ensure that attacks have a maximum impact.
"Businesses throughout Wales, particularly those in crowded places, have an invaluable role to play in our fight against terrorists, violent extremists and other criminals.
"Staff are often the first people to spot signs that something is wrong.
"We don't want to scare people but we do want them to understand the threat and be vigilant to things that are out of place or suspicious and report it to the police."
The counter-terrorism awareness week comes after the terror threat level in the UK was raised from substantial to severe in August.
Ms Holland said: "While the severe threat level indicates that it is highly likely that a terrorist attack could happen in the UK, there is currently no specific intelligence of a terrorist attack within Wales."
Home Secretary Theresa May said on Monday that the "time is right" for police, security and intelligence agencies to be given more powers to defend the UK.
She was setting out parts of the Counter Terrorism and Security Bill - which will be introduced to Parliament on Wednesday - in a speech at a counter-terrorism event in London.