Prof Anthony Warrens: Organ transplant fear over 'infected' kidneys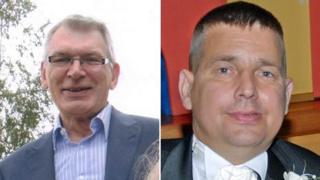 People who need organ transplants may "die needlessly" following concerns raised by the death of two patients given infected kidneys, a leading transplant surgeon has warned.
Prof Anthony Warrens said patients might play safe when deciding whether to accept an organ.
An inquest heard Robert Stuart and Darren Hughes died after operations at Cardiff's University Hospital of Wales.
The kidneys they received had been rejected as "unfit" by other hospitals.
Mr Stuart, 67, of Cardiff, and Mr Hughes, 42, of Bridgend, died after being given kidneys infected with meningitis-causing parasitic worms.
Doctors knew the donor had died from meningitis before accepting the organs, Cardiff Coroner's Court heard last week.
But no post mortem examination had been carried out on the un-named donor before his organs were offered for transplant.
'Get in perspective'
Prof Warrens, president of the British Transplantation Society, said the death of patients on waiting lists could rise if people start turning down organs where there is an unknown cause of death or increased risk.
"This is a worry. If people don't accept an organ or worry about donating the organs of a relative because of this then more will die needlessly - it is as simple as that," he said.
"If they don't get it in perspective they may worry or end up turning down an organ."
He said the deaths of Mr Stuart and Mr Hughes - who died within three weeks of their transplants - was an "incredibly rare situation".
"The vast majority of people who have taken an organ like this wouldn't have run a risk whatsoever," he added.
"The chances of dying without a transplant are much higher than dying because of a transplant.
"Three people die every day in the UK for want of an organ."
Medical history
An inquest in Cardiff last week heard Mr Hughes and Mr Stuart died last December from meningoencephalitis, a form of meningitis, caused by an incredibly rare parasitic worm in the donated kidneys which had unknowingly caused the death of their donor.
The Halicephalobus worm, which lives in soil and more commonly infect horses, lays eggs in the kidneys and travels to the brain where an infestation cuts of blood supply and causes haemorrhaging.
There have only been five reported cases in the world of people diagnosed with the infection and all have been fatal. The infections of Mr Hughes and Mr Stuart are the first recorded human-to-human transmission in medical history.