Review after child grave items taken to landfill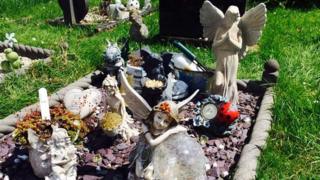 A bid is being made for a law to protect tributes on children's graves after a bitter dispute between grieving parents and a Welsh council.
Families hit out after personal items were removed from their children's graves in Torfaen and sent to landfill tips in June.
Apologising, the council said it went to "significant effort" to tell residents.
The assembly's petitions committee was told the council was "heavy-handed".
Discussing the matter on Tuesday, Plaid Cymru AM for South East Wales Lindsay Whittle told the committee: "I can't understand why Torfaen was so bullish in their attitude towards them, this is a really sensitive issue and it must have been very distressing for the individuals concerned.
"I think clear policies are needed... I do think Torfaen council were very handed in this."
The committee agreed to send "significant and detailed" responses from the petitioners to Public Services Minister Leighton Andrews.
Evidence will be sent to a cross-party group for funerals and bereavement and a final decision will be made at a later date.
'Case for Change'
Nearly 2,000 people signed a petition for the Welsh government to bring in a Wales-wide law on what can be put in tribute on the graves of babies and young children.
Public Services Minister Leighton Andrews has said he is "sympathetic" towards the campaign and will decide if there is a "case for change".
The petition is led by Catherine Board, whose son Brandon is buried at Cwmbran cemetery, and Torfaen councillor Elizabeth Haynes.
It calls for the Welsh government to set a policy for all councils which is "mindful of the delicate nature of personalisation of graves, particularly baby graves".