One man's journey from respectability to 'Mr Big'
When Martin Evans pulled up on his Harley Davidson outside a local pub in Pontarddulais brandishing a box of chocolates for his mother, drinkers were stunned.
That is because the charming man was on the run after skipping jail and wanted in connection with running an international drug cartel and an ostrich farm fraud. He would go on to become one of the UK's most notorious criminals.
But the threat of imminent arrest did not deter the "Mr Big" from marking Mother's Day with the impromptu visit.
He even sat down for a drink with locals before heading back out to his motorbike.
Family friends say the stunt was typical of Evans, now 53, who was recently caught by investigators after going on the run for the second time.
Evans, who made an estimated £39m from drug running, internet scams and other frauds, evaded capture for three years.
A worldwide manhunt was carried out for the criminal from Swansea, who was finally found living comfortably in a gated community in South Africa with his fiancee and young baby daughter.
His home in Midrand, an upmarket suburb of Johannesburg, was a world away from Evans's beginnings in the small town of Pontarddulais.
So what drove the once respectable Welsh Young Businessman of the Year to become a notorious criminal dubbed by some as the "cocaine king of Wales"?
'Well-mannered'
He was brought up in a "lovely" family, according to one family friend, who remembers Evans fondly.

Life on the run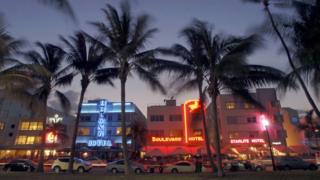 Martin Evans went on the run a total of three times - once before his trial in Swansea for the ostrich farm fraud, he then absconded while in prison but was immediately caught, he was more successful on his third attempt when he was on the run for three years
Evans lived the high life with a penthouse in Miami and luxury villa in Marbella
He was eventually caught after investigations by the National Crime Agency along with Interpol, the FBI and South African police among others
While on the run he used aliases including Martin Roydon Evans, Martin Wayne Evans, Anthony Hall and Paul Kelly

Dai Beynon, former mayor of the town, who remains a town councillor, said: "You couldn't wish for a nicer guy. He is the type any parent would love to see their daughter bringing home.
"He was well-mannered, well-spoken, well-dressed and a nice conversationalist."
Born to Jean and Ken, Evans went to Ysgol Gyfun Ystalyfera in Swansea, and was said by school friends to have left with very few qualifications.
Although he may not have been a natural student, Evans made up for it with charisma.
"He was a charmer" said Mr Beynon. "He could charm the birds off the trees."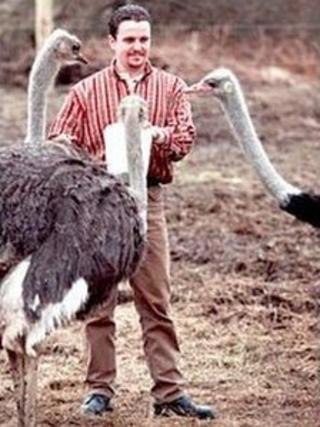 His father died when Evans was in his late teens, and his mother remarried.
'Business acumen'
Evans tried DJing and opened a video shop, before finally finding success by starting a double-glazing business, which won him the title of Welsh Young Businessman of the Year.
But when that business collapsed in the mid-1990s Evans turned to less legitimate means to make his money.
Mr Beynon said: "Martin had a business acumen that would make him a millionaire by hook or by crook. As it happened it was by crook."
He was jailed for 15 months in 1994 for fraud, but it was in this time that he dreamed up the scheme which would mark the start of his years on the run.
He and his then wife Esther, who he had three children with, started up an ostrich farm at Dunvant, near Swansea in 1995.
They advertised in national newspapers with the slogan "Ostrich Nest Egg" and sent out glossy brochures which played up Evans's business award and promised massive returns on investments.
They said low-fat BSE-free ostrich meat was the perfect alternative to beef or lamb, and offered investors the chance to buy an ostrich on the farm.
Evans talked to investors and used his charisma to get retirees to invest their money, sometimes their life savings, in the scheme.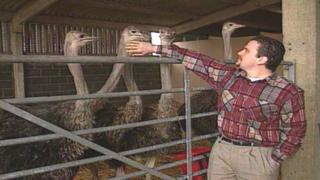 'Charming man'
Former GP Peter Johns and his wife Betty invested £12,000 from his retirement lump sum in an ostrich on the farm.
"He was a charming man and it was very easy to be deceived by him" said Mrs Johns. "I can't understand why intelligent people like us were taken in by him.
"We thought that ostrich meat was going to become quite fashionable and we thought it could work."
A total of 87 people invested £875,000 in the company, oblivious to the fact that Evans was selling each ostrich numerous times. The company was declared insolvent in July 1996.
By then £329,000 had been channelled into offshore accounts in Jersey and the Bahamas.
Mrs Johns said: "Some people owned four £17,000 ostriches. Some of them were very hard-hit and had invested all their savings."
Evans and his wife both faced charges of fraud but, just as the trial was about to start, Swansea Crown Court received a fax from him saying he would not be attending.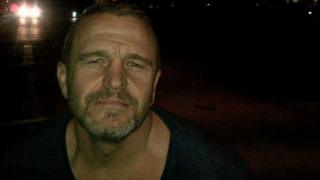 He had skipped the country with another woman for Spain, leaving his wife to face the charges alone. After his actions she said she never wanted to see him again and the couple are now divorced.
'Mr Big'
Meanwhile Evans masterminded a multi-million-pound drugs and money laundering operation, which made millions of pounds by importing cocaine and ecstasy into the UK from mainland Europe.
Simon Flowers, Branch Commander Wales, National Crime Agency (NCA) said Evans was a "Mr Big".
"Evans was in control of the Wales market," said Mr Flowers. "He was the number one drug importer into Wales in and around that time. No two ways about it. He would also have had significant influence on the rest of UK as well."
Evans was living the high-life with a 37th floor luxury apartment in Ocean View, South Beach, close to Miami's Trump Towers. He also had a £2m luxury villa in Marbella with a swimming pool and house staff.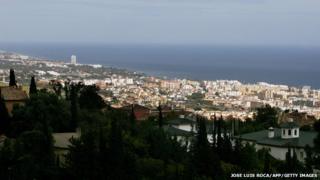 He was eventually caught flying into JFK airport by US authorities travelling on a false passport in November 2001, because of heightened security following the 11 September attacks that year. He was deported to Paris before being returned to the UK.
Global operation
Evans was finally sentenced to 24 years in prison for both his scams and drug dealing, the sentence was reduced on appeal to 21 years.
He served six years before grasping the opportunity to go on the run again in 2011. He had been allowed to return home for the weekend to visit family, but did not return to the prison.
The NCA launched a manhunt to find Evans, who they said was among the 11 most-wanted criminals.
They believed he was hiding in Cyprus, but finding him was a global operation, given his previous links to the US, Netherlands and the Carribean.
He was finally arrested after months of surveillance by South African police who had been tipped off by the NCA.
The NCA said it had taken the entire three years, to track him down.
A South African extradition hearing was told Evans had just 333 days left - less than a year - behind bars to serve in the UK.
As his future was decided Evans grinned at journalists and winked at his fiancée in court.
He was finally flown back into Heathrow airport on October 17 and taken to a high security prison.
But even now, with the run of convictions and chequered past he has, some believe Evans would be welcomed back to the town where he grew up when he is released.
Mr Beynon said: "He is a nice guy. To be honest if he came back to this town when he gets released again I don't think he will have any problems."
However, investigators from the National Crime Agency sound a note of caution, pointing to the impact Evans's drug trafficking has had.
Mr Flowers said: "This is a man who was wreaking havoc among Welsh communities."

On the trail for Martin Evans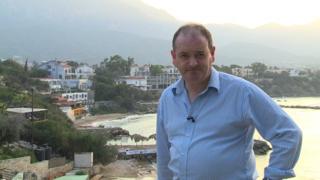 BBC reporter Tim Rogers followed Martin Evans's trail to Cyprus
Right from the start I need to make it clear that we have never been introduced. Martin Evans sits behind bars - beyond our inquisitive gaze and the many questions I would like to ask him.
There is much we know about him. And there is much we do not. But of this we can be certain. This is no ordinary criminal. Martin Evans is, according to the National Crime Agency, a significant figure in the underworld whose crooked path earned him a place among Britain's most wanted.
Charismatic, intelligent with a gift for organisation, he started along a very different path. He grew up in Pontarddulais near Swansea where he is remembered as coming from a good family and where he opened a video shop in anticipation of the start of the video boom in the 80's even though many people didn't have video machines in the town. But they soon caught up.
Evans had a knack for business which earned the Young Businessman of the Year award. From small time video rentals to double glazing. For all the world the respectable hard working entrepreneur on his way to his first million.
But in the 90's when his double glazing business collapsed he made a fateful decision. He decided to walk on the dark side of the street and do business instead in the shadows.
In retrospect it seems pretty straight forward. He liked the good life, the prestige and the trappings of success. The world of illegal drug dealing which he chose to inhabit - and in which for a while he thrived - was all too appealing. Good money. Never mind the consequences. But to make a decision like that suggests something else. A moral bankruptcy that the winning smile and easy charm covered up with a thin veneer.
In the telling of his story for 'Week In Week Out' we began by meeting some of the people he defrauded with an ostrich Farm scam in Swansea. The farm and the ostriches were real enough. The business plan wasn't.
Those he encouraged to invest in his scheme were often retired professional people who thought the idea of putting money into a 'green venture' was admirable particularly as if offered returns of up to 70% a year. But an ostrich is a flightless bird and this one turned into a turkey.
Evans sold the same ostriches over and over again to different customers assuring them that they were sole 'owners.' One couple I met look back at the whole episode with wry resignation. What they remember was a man who charmed them with his easy confidence. Even now they find him hard to loathe, even though he hurt many people and took several to the brink.
That's the curious thing about Martin Evans. His smile and his style have, it would appear, been all too appealing over the years. He has had several partners and children by different women - each woman apparently taken in by something irresistible. Dash, swagger - confidence for sure
When he was charged and required to appear in court, he skipped bail sending the judge a fax stating that he would not be attending that day. It was the first of three episodes of absconding that ultimately led him to Northern Cyprus.
That was where he fled after being allowed out while on home leave in 2011. Northern Cyprus has no extradition treaty with the UK. This is where we went to find out more about his life there which he enjoyed in some style. But this is where we also glimpsed another side of the self styled loveable rogue. And that side appears to be dark.
Evans lived among the expat community - drinking in bars and mixing easily - although no one who still lives there and who remembers him cares to talk about it. Could that be misplaced loyalty, or something else? We spoke to the local owner of a respected restaurant who told me he did not know Evans personally but he has a waiter who does and who to this day is too afraid to talk about him to anyone.
Even some of the expats drinking around the corner in the bar who started talking to each other about Evans quickly stopped apparently too nervous even to meet me to say anything about him at all. Martin Evans has a reputation. And in Northern Cyprus - for whatever reason - it is one that no one cares to cross.
From the birth of the National Crime Agency, Martin Evans was always a significant target. They know him as a very different man. A man who was determined to make a fortune at all costs, and morality was of no consequence. Neither was the misery his trade in drugs caused to communities across Wales.
One senior investigator I spoke to told me that Evans always appeared careful to distance himself from the criminal trade he was organising. On the street and in the homes and back alleys where his drugs were consumed, the result was often miserable - often leading to an addiction that could only be satisfied with proceeds of crime and yet more misery.
Today, Martin Evans is in jail but is NOT facing any charge for absconding and being on the run for three years. Considerable amounts of taxpayers money went into the operation to arrest him and bring him back from South Africa.
But the fact is, that within nine months he could be out again. And then what? Does he have the millions the investigators believe he has stashed in hidden bank accounts around the world? Will that money ever be accounted for and returned to the UK and will he ever really atone for his crimes? The investigators doubt it but they have vowed never to stop looking.
Martin Evans knows. But he's not telling. Like so much about this character, and his story - there is still a great deal to learn.
The Hunt for Martin Evans by Week In Week Out is on BBC One Wales on Tuesday at 22.35