Torfaen drugs gang leader Ashley Beaumont jailed 10 years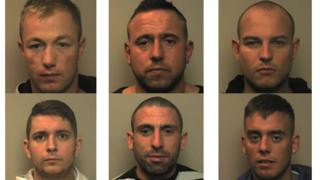 The leader of a drugs gang who used a sports supplements shop as cover for a criminal enterprise which turned over £84,000 a month has been jailed for more than 10 years.
Ashley Beaumont, 25, a cage fighter, and most of the others enjoyed a "lavish lifestyle", Cardiff Crown Court heard.
Beaumont and nine others were sentenced for supplying cocaine in the Torfaen area for four years.
Six received jailed sentences.
The judge criticised the Crown Prosecution Service for failing to prosecute Beaumont in 2009, when he was found with electronic scales and traces of white powder in his home.
Judge Neil Bidder said the towns of Pontypool and Cwmbran "had to put up with two more years" of drug dealing because the CPS did not bring proceedings against him at the time which appeared to have been "the wrong decision".
After the trial, Gwent Police said it had been a large conspiracy to supply Class A drugs.
The sentences:
Immediate prison terms were given to: Ashley Beaumont, 25: 10 years and eight months; Adam Barker, 24, five years and five months; Marcus Purchase, 25, seven years and four months; Thomas Filer, 23: five years and four months; Dean McCann, 26: 10 years; Christopher Evans, 33: seven years and six months
Nathan White, 27, was sentenced to 21 months, suspended for two years and ordered to carry out 240 hours of unpaid work in the community. Chelsea Barnes, 23, was given a suspended sentence of 12 months, suspended for 18 months
Ben Rogers, 22, was given a community order for 12 months and a default of 28 days. He was also ordered to carry out 120 hours of unpaid work. Darren Pinkey, 31, was fined £750 and given a 28 days default.
The charges:
Ashley Beaumont: Conspiracy to supply cocaine and possession of a prohibited weapon - a stun gun
Marcus Purchase: Conspiracy to supply cocaine
Thomas Filer: Conspiracy to supply cocaine
Chelsea Barnes: Conspiracy to convert criminal property
Adam Barker: Conspiracy to supply cocaine
Dean McCann: Conspiracy to supply cocaine, possession of 294 grams of mephadrone and burglary
Darren Pinkey: Possession of 1.19g of cocaine
Nathan White: Two counts of supplying cannabis
Ben Rogers: Possession of two items of cocaine
Christopher Evans: Conspiracy to supply cocaine and fraud for lying about his employment record in order to get finance for a BMW
Ieuan Bennett, prosecuting, said the enterprise was significant and led to other crimes as members attempted to pay off drugs debts.
Beaumont, of Pontypool, and his partner at the time Chelsea Barnes, 23, went on significant numbers of expensive foreign holidays.
"Friends were recruited - they started by using cocaine, ran up debts and ended up working for the Beaumont enterprise," said Mr Bennett.
The court heard how Gwent Police found around 200g of cocaine at Beaumont's house in May 2013, along with documents which indicated drug dealing was taking place.
The court was told the gang from the Torfaen and Newport areas was run ruthlessly with members feeling intimidated by Beaumont, whose Sports Science Nutrition business "appeared to be used as cover" for his dealing.
He was found in May 2013 with £1,340 in cash at his home, three safes and brochures for foreign holidays.
The court heard other crimes such as burglary and further drug dealing were committed to pay off debts owed to the ringleader.
One defendant, Dean McCann, was said to have amassed debts of more than £16,000 because of his cocaine use which he paid back by working for Beaumont.
Text messages between Beaumont and other gang members were read out in court, including threats to burn down houses and assault.
After the sentencing, Det Insp Alun Davies, of Gwent Police, said: "The damage that drugs and the subsequent crime that people commit to pay for drugs could have caused to the communities of Gwent should not be underestimated.
"By getting these individuals off the streets, whole communities have been saved from that suffering." ­­