Record level of MMR vaccinations in Wales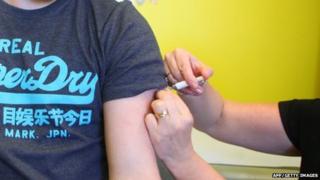 The number of children who have had the MMR jab - to protect against measles, mumps and rubella - has reached a record level in Wales.
The latest figures show 96% of children have had the first dose of the vaccine by the age of two.
Some 93% of five year olds have had the necessary two doses.
Vaughan Gething, deputy health minister, said progress had also been made in vaccinating older children who missed out on the jab at a younger age.
At 16 years of age, 95% of teenagers have now received one dose of MMR and 89% have received two doses.
It comes after a drive to improve the immunisation rate after a measles outbreak in 2013, which was centred on Swansea.
'Life-threatening diseases'
In a statement to assembly members, Mr Gething said that across Wales in 2013-14, 88% of children had completed the course of recommended childhood immunisations and were fully up to date by their fourth birthday - an increase of 6% from 2012-13.
"Vaccines are a safe and simple means of protecting individuals and the population as a whole from potentially life-threatening diseases," he said.
"Our commitment to improve MMR vaccination rates has seen uptake gradually increase. The latest reported figures are at the highest levels ever recorded in Wales."
He added the Swansea measles outbreak "offered a timely reminder of how life-threatening diseases can return if we do not maintain high immunisation levels".