Earlier diagnosis 'would not help Katie Maytum's life expectancy'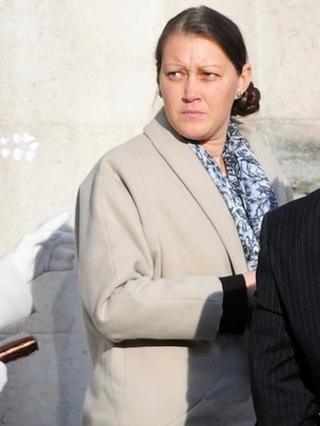 A terminally ill woman would not have a greater chance of surviving breast cancer had she been diagnosed five months earlier, Cardiff High Court has heard.
Katie Maytum, 35, of Maesteg, is suing Abertawe Bro Morgannwg University Health Board for £750,000, saying her case was not treated as urgent.
It admits a breach of duty.
Oncologist Terrence Priestman told the court the delayed diagnosis would not have an impact on her life expectancy.
ABMU admits it failed to diagnose Miss Maytum, a mother of two, in August 2010 when she was urgently referred by her GP to the Princess of Wales Hospital in Bridgend.
'Chemotherapy'
Her diagnosis was downgraded by a consultant and she was not seen until January 2011.
Dr Priestman said: "We are dealing here with a tumour that was inherently aggressive and, sadly, if it had been diagnosed in autumn 2010, the outcome would be no different to the one we are faced with today.
"We know that at September 2010, sadly Miss Maytum would have already had micrometastases (secondary cancer cells).
"So she would not be in the 77 per cent cured by surgery alone, but falls into the 23 per cent who might or might not be cured by chemotherapy and hormone therapy."
He denied the claim the court heard yesterday by Prof Justin Stebbing, who said a "window of opportunity" was missed.
The case continues.