One in four children in Wales obese at 11, study finds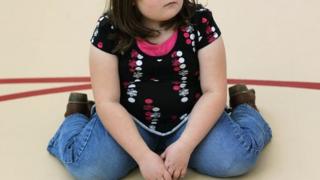 One in four children in Wales are obese by the age of 11, a new study has found.
Those born between 2000 and 2002 who were studied by the Institute of Education, London, were obese, the Millennium Cohort Study (MCS) said.
A further 17% were overweight, taking the combined total to 40.5% - higher than all other UK regions.
Obesity specialist Dr Nadim Haboubi said education was the key to tackling the problem.
MCS collected information on the weight and height of more than 13,000 UK children, including 1,752 living in Wales.
They were measured at ages three, five, seven and 11.
Almost half of all children tested - 49% - were classified as overweight or obese on at least one occasion.
At age 11, girls weighed more than boys with an average weight of 6st 9lb (42kg) compared to 6st 6lb (41kg) for boys.
The study found 25% of children whose parents had no educational qualifications were obese compared with 15% whose parents had a degree.
Researchers discovered children with obese mothers were most likely to be overweight or obese, but no link was found between children's weight and their parents' social class.
The study found obese children were less likely than others to be "completely happy" with the way they looked and were more likely to say they were "not happy at all" with their appearance.
Dr Haboubi, chairman of National Obesity Forum Wales, described childhood obesity in Wales as a "tsunami" and said the problem here was amongst the worst in western Europe.
He said obesity was on the increase and caused knock-on health problems - with doctors seeing a worrying rise in the number of children with type 2 diabetes.
"This is something that is a new phenomenon - we are seeing eight, nine, 10 year olds with type 2 diabetes. It's scary," he said.
"It's [obesity] growing and we haven't actually managed to stop the progression of it."
Dr Haboubi said education was key to tackling the problem and food retailers, governments and health officials needed to get together to agree a way forward.
Physical activity in schools should be increased and cheaper gym and leisure centre membership would also help, he added.