Swansea RFC captain Paul John 'punched girlfriend'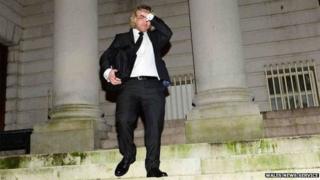 Swansea rugby team captain Paul John punched his girlfriend in the face when she caught him flirting on Facebook, Cardiff Crown Court has heard.
Mr John, 26, left psychology graduate Amy John scarred and having to drink through a straw, the jury was told.
Ms John, who has the same surname as the defendant, said the attack happened at Mr John's parents home in Porthcawl.
Mr John, of Porthcawl, south Wales, denies a charge of unlawful wounding.
Ms John said the defendant blocked her path by crouching down at the front door of the house as she tried to leave, so she kicked out at his groin but "did not make contact".
She said: "He stared at me, stood up, leaned over, glared and hit me with his fist.
"I will have the scar for the rest of my life. I can cover it with make up but that doesn't mean it is not there," she said.
'Pushing'
The court heard Ms John, who volunteers as an appropriate adult with vulnerable suspects being interviewed by police, initially told officers the incident had been an accident and Mr John was told no action would be taken against him.
Elwen Evans QC, defending, said: "You kicked him in his private parts and all he did was push you away."
Ms John replied: "Pushing me away would not have caused me to need surgery."
The case continues.