Hill farmers seek judicial review over EU grant changes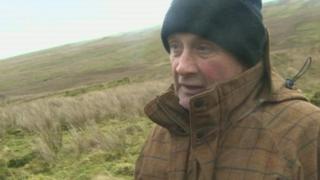 Upland farmers are seeking a legal challenge to the way EU subsidies are paid to them by the Welsh government, claiming many of them face ruin.
Changes mean farmers get €20 (£16) per hectare for land above 400 metres but ten times as much for land below.
Farmer Glyn Lewis Jones, from Llanarmon Dyffryn Ceiriog, near Wrexham, claimed it was unfair and made no sense as higher land was often more fertile.
The Welsh government said it was aware of the bid for a judicial review.
'Splitting communities'
A group calling itself Tegwch i'r Ucheldir (Fairness for the Uplands) has claimed that around 300 of the 15,000 farmers in Wales were being short-changed by the way Welsh ministers were distributing the grant aid from the EU's Common Agricultural Policy (CAP).
Mr Jones said they were challenging a system which they felt was unfair and divisive.
"There is a tradition which goes back hundreds of years where neighbours help each other," he said.
"What's been offered is splitting communities in the uplands.
"Hill farmers in England are getting an increase from €45 (£35) a hectare to €75 (£59), and they're asking us to accept 20 euro," he added.
"It's difficult to see us staying, to be honest, if nothing comes of it [the legal process]."
Union leaders had warned that some farmers would face a "major hit" when the changes to payments were announced in January but have not formally backed the group seeking a legal challenge.
A spokesman for Agriculture Minister Rebecca Evans said: "We are aware of the application for a judicial review and cannot comment further until the legal process has run its course."