Farmers win Welsh government cash legal challenge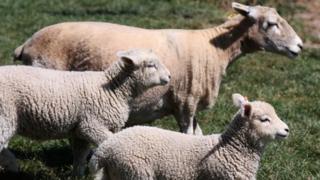 Upland farmers in Wales have won a legal challenge over the way EU subsidy payments are paid by the Welsh government.
The rules have seen those farming land above 400m (1,300ft) in line for payouts that are worth ten times less than those on lower slopes and moors.
It led to a judicial review bid by Welsh farmers group Fairness for the Uplands.
An agreement to review the payment system was reached on Friday.
The Welsh government's stance was formally quashed by the courts, without the need for a full judicial hearing, said the farmers' group.
"We are grateful that the Welsh government has acknowledged that the introduction of a 400m line, which would have split the moorland of Wales in two, was not justifiable and that such agreement has been reached without the need for a court hearing," said Tony Davies, on behalf of Fairness for the Uplands (FFTU).
'Disappointed'
Under the original agreement drawn up by the Welsh government, land above the 400m line was worth £16-a-hectare or €20 - while below the line, land was worth £160 - or €200 in EU subsidies to farmers.
According to the FFTU, about 300 hill farmers out of 15,000 in Wales were affected by the ruling.
Responding to the development, the deputy minister for Farming and Food, Rebecca Evans, said she was disappointed by the legal outcome but would "continue to work for a fair and equitable payment scheme that meets the needs of Welsh farming".
"Farmers will be understandably concerned about the implications this latest news may have for them and I will ensure that they are kept fully informed about future developments," she added.
"We will be consulting on options for revised payment arrangements shortly."