Cancer patient 'moved from Wales to England for drug'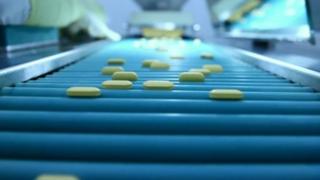 A Welsh cancer patient who waited three months for a drug moved to England and got it within 72 hours of registering with a GP there, MPs have been told.
Andrew Wilson-Webb of the Rarer Cancers Foundation told the Welsh Affairs Committee that care was "excellent" in Wales but access to drugs was not.
He said doctors in Wales knew a request for innovative drugs would be refused.
First Minister Carwyn Jones has rejected the idea of a specialist cancer drugs fund for Wales.
While such a fund operates in England for drugs not available on the NHS, Mr Jones has said he does not see why cancer should be prioritised over other serious illnesses.
'False hope'
Mr Wilson-Webb told MPs on Tuesday that doctors in Wales did not ask to try drugs not approved by the National Institute for Health and Care Excellence (NICE) because they knew they would be refused and did not want to give patients "false hope".
He told the committee, hearing evidence on cross-border health arrangements, that he knew of a man in Wales whose health had deteriorated while he waited three months to see if an individual funding request (IFR) for a drug would be approved.
He said that the man had moved to Bristol, registered with a GP there, and was given the drug within 72 hours.
Mr Wilson-Webb said the estimated cost for a cancer drugs fund in Wales would be about £10m.
Earlier, Dr Alan Rees, vice-president for Wales of the Royal College of Physicians, told the committee that he believed people received first-class cancer care in Wales despite individual frustrations.
He said there were "no issues over the availability of NICE approved cancer drugs" in Wales and that Velindre Hospital in Cardiff was one of the best cancer treatment centres in UK.
"I don't recognise some of these criticisms of the NHS in Wales from my own clinical experience," he said.