Non-urgent 999 calls unacceptable, says Vaughan Gething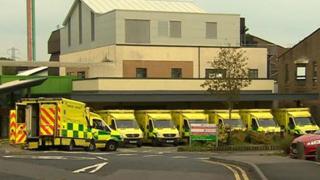 People made 31,000 inappropriate 999 calls to the ambulance service last year which is completely unacceptable, says a politician.
Deputy health minister Vaughan Gething made a plea for people to use 999 "sensibly", as the NHS struggles to cope with increased winter demand.
Patients in Swansea and Bridgend have been told to avoid busy A&E units.
And seven ambulances were queuing at Bangor's Ysbyty Gwynedd in north Wales on Tuesday.
Mr Gething, who is due to visit the ambulance services' control centre in Cwmbran on Wednesday, said: "Our A&E and ambulance service staff work incredibly hard day in day out to provide life-saving treatment to people right across Wales.
"If people do fall ill, then there is a range of options open to them to access the appropriate treatment they need.
"In short, calling 999 for minor illnesses could prevent a genuine life or death emergency call being put through.
"The number of unnecessary calls the ambulance service receives ever year is completely unacceptable."
BBC Wales revealed in July that among the non urgent 999 calls received by the ambulance service was one from a man who had a fly in his ear while a woman called to ask whether the green part of a potato was poisonous.
The figures also show that many of the 999 calls for an emergency ambulance were for minor illnesses like toothache, sore throats, coughs and colds.
Richard Lee, head of clinical services at the Welsh Ambulance Services NHS Trust, said: "We don't want to deter anyone from calling 999, but we want people to think twice before they do.
"If you go to hospital by ambulance you will not be seen any quicker.
"When people call an ambulance when one is not required it means our precious time is being taken away from someone who really does need our help."