Review 2014: Stormy year for environment in Wales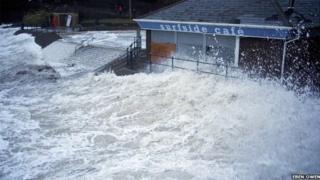 2014 started with a bang. A series of storms rolled in and high tides hit the coastline from Burry Port to Rhyl.
In many areas the Wales Coastal Path was washed away but the damage elsewhere was far worse.
Houses and homes were flooded, but the most obvious damage was to Aberystwyth's promenade.
The then Environment Minister Alun Davies said he was "shocked to his core" by what he saw in the Ceredigion seaside town in January.
Millions of pounds of damage was caused as south westerly gales and surging tides fed by high winds combined to smash hundreds of miles of our coastline.
Natural Resources Wales (NRW) prepared two reports on the damage done, and how to mitigate storm impacts in future.
Repair work went on all year but, with extra cash from the Welsh government, the prom in Aberystwyth was ready for Easter visitors.
Climate questions
Climate is different to weather, but there was plenty of discussion on the Intergovernmental Panel on Climate Change's (IPCC) fifth report.
The main message was that warming is "unequivocal" and human influence on climate is clear.
The heavier rain is washing thousands of tonnes of topsoil in Wales into rivers and drains. Some farmers are adapting how they plough and plant their crops to try and reverse the loss.
If extreme unpredictable weather was not enough, the the full extent of the larch disease became more apparent with the Phytophthora ramorum fungal disease.
Stormy political waters
NRW was in the news for other reasons as well.
Naturalist and broadcaster Iolo Williams claimed on the first anniversary of the new environment service that conservation was now less important after the Countryside Council for Wales' merger with the Environment Agency and the Forestry Commission.
There were also claims that NRW was too close to the Welsh government.
The agency modified its advice to ministers on the controversial £280m Circuit of Wales race track that may be built near Ebbw Vale.
Alun Davies - at that time minister responsible for the NRW - wrote in his capacity as the local AM for Blaenau Gwent complaining he was "very disappointed" with NRW and urged it to "adopt a positive approach".
Chief executive Emyr Roberts rejected the notion that political pressure played any part in revising its concerns about the environmental impact.
Mr Davies was found to have broken the ministerial code over lobbying for the race track but hung onto his post - at least for a few days.
Two weeks before the Royal Welsh Show, First Minister Carwyn Jones sacked him for actions which were "poorly judged" and "inappropriate".
Mr Davies had asked civil servants to give him details of farm subsidies paid to opposition AMs, who attacked his behaviour as "disgraceful".
He was the first of three ministers to be responsible for the Welsh environment this year. John Griffiths stepped up from the substitute bench for a time, before Carl Sargeant beefed up his planning duties to be minister for Natural Resources and Food as well.
Wind and shale
Energy issues can be contentious at the best of times. Construction of the Pen y Cymoedd wind farm began, while the Gwynt y Mor turbines out to sea are almost complete.
Meanwhile a consultation into Wylfa Newydd - the new nuclear plant on Anglesey - got underway.
In Montgomeryshire people will have to wait until the new year before being told if the UK government will allow five large wind farms to be built after a year long public inquiry.
The arguments intensified too over energy subsidies for nuclear power, renewables and plans for a tidal lagoon in Swansea Bay.
Fracking for shale gas has been a controversial issue with clear support from the UK government, but in Wales the new environment minister Carl Sargeant said in December his administration wanted more scientific evidence before taking a view.
When commercial drilling re-starts in England, and exploratory drilling begins in Wales, expect more protests next year, similar to the ones we have seen this year.