Alcohol issues higher than drugs, charity Cais says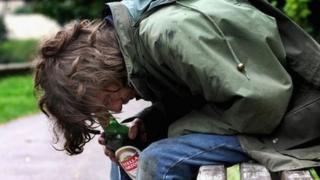 More people are seeking help for alcohol problems than those with drug issues, one of Wales' biggest charities has said.
Cais said the 50/50 balance of five years ago has shifted, as 80% of cases it now deals with are alcohol-related.
The charity's chief executive Clive Wolfendale said the problem will be highlighted over the festive period and into the new year.
He added alcohol was too cheap and that it was promoted as "glamorous".
"Drinking is fuelling half of the violence in Wales in homes and on the streets," Mr Wolfendale told BBC Wales.
"We continue with the celebration of drinking as a pre-requisite of being happy.
"Somebody's happy experience could be another person's absolute misery."
Drug of choice
The charity provides support on substance abuse and mental health issues across north Wales and Powys.
Mr Wolfendale, who is a former acting chief constable of North Wales Police, said people who are looking for a release are more likely to turn to alcohol than drugs because of the availability and cost.
"Pricing is all over the place. It needs to be more expensive. It's not happening quickly enough," Mr Wolfendale added.
"Sadly, no government seems to be able to get a grip on it.
"Use of opiates has decreased dramatically and is unappealing to many people, particularly young people, whereas drink has increased in popularity. It's promoted as glamorous."
Mr Wolfendale also said alcohol problems would "manifest" themselves in the new year when the "hard reality of the desperation that's being created hits home".