Primary school pupils 'still hungry' after lunches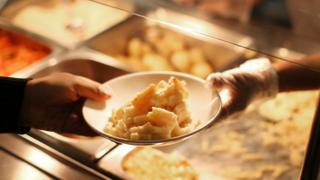 Half of younger primary school children in Wales are still hungry some or all of the time after eating their school meal, says the children's commissioner.
The figure was even higher, at 70%, for pupils aged nine to 11.
Keith Towler followed up a BBC Wales study a year ago which found many schools had clamped down on lunch second helpings for pupils.
He said: "I recognise that times are tough on local authorities but we're talking about a basic need here."
More than 1,000 primary and secondary school pupils filled in an online questionnaire earlier this year.
It found 27% of pupils aged between five and eight-years-old felt hungry after a school lunch, with a further 27% sometimes feeling hungry.
For youngsters aged nine to 11, 29% were still hungry and a further 41% sometimes felt hungry.
Mr Towler said there was "something wrong with the system".
He added: "For many of these children - due to their socio-economic background - this is the only hot meal they'll get all day.
"There's been much discussion over recent years about how nutritious meals can really boost educational attainment - if we're serious about improving educational outcomes for all children in Wales, then let's start by getting the basics right for them."
Last year a BBC Wales survey found a number of councils left the decision on extra servings to schools or caterers.
A Welsh government spokesperson said: "We have produced statutory guidance for local authorities and governing bodies including a section on suggested portion sizes.
"A school lunch should provide 30% of a learner's estimated average energy requirement. Schools and local authorities have a legal duty to comply with the statutory guidance."
The Welsh Local Government Association has been asked to comment.