Number of abandoned pets in Wales 'alarming', says RSPCA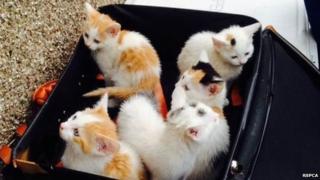 The number of abandoned pets in Wales is "alarming" says the RSPCA, as the latest figures show more than 700 were dumped in 2014.
The charity said it saved 761 animals throughout the year to 16 December, down from 903 in 2013.
Cats and dogs were among the most common animals to be abandoned, but some more unusual pets were also rescued, including terrapins.
RSPCA said some animals were being "treated like rubbish".
Cardiff saw the highest number of pets dumped for both 2013 and 2014, while Ceredigion had the lowest number.
The RSPCA's Martyn Hubbard said the figures were alarming and the problem often escalated around Christmas.
"The shocking fact is that even in a nation of animal lovers, there are thousands of people out there who don't care about their pets at all. In fact, some literally treat them like rubbish," he said.
"Even worse, holidays like Christmas can lead to an increase in abandonment, as some people choose to get rid of their pets rather than pay for them to be looked after while they are on holiday.
"In other cases, money may be spent on holidays and Christmas presents rather than seeking vet attention for ill or newborn animals, so they are dumped," he added.
"It's bad enough when we find a box of kittens wrapped in blankets on our doorstep with a note, but now people are deliberately dumping their animals in out of the way places - like bins, skips or on waste ground - and leaving them to die."
Earlier this year RSPCA said there was a crisis in the abandonment of horses after it saw a six-fold increase in the number of horses rescued in Wales over five years to 271.
But the charity said it now has a 100% success rate for the prosecutions it brings.
There were 297 convictions last year in Wales - a rise of 20% - following an increase in the number of animal welfare cases reported.