Terror arrest men Kristen Arne Brekke and Forhad Rahman in court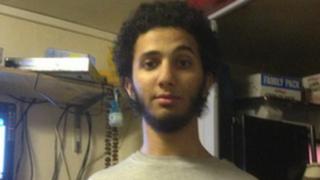 Two men accused of helping a 17-year-old Cardiff boy leave the UK to join fighters in Syria will stand trial in London in June.
Kristen Arne Brekke, 19, of Grangetown Cardiff, and Forhad Rahman, 20, of Cirencester, Gloucestershire, appeared at the Old Bailey on Friday.
It is alleged they assisted Aseel Muthana before he left Cardiff in February 2014.
Both are charged with engaging in the preparation of terrorist acts.
They were remanded in custody.
Meanwhile, a 19-year-old man from Cardiff, who allegedly planned to fight in Syria alongside Islamic State militants, has been remanded in custody until his next court appearance on 17 April.