20,000 flying away for Christmas from Cardiff Airport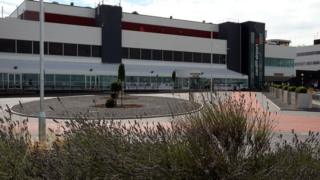 Twenty-thousand people will be flying out of Cardiff Airport to spend their Christmas away from Wales' dark December days this year.
With no white Christmas in sight, thousands are heading to warmer climes, including Egypt's Sharm El Sheikh and Spanish resorts.
Figures have just been released showing a top 10 list of favourite festive destinations from Cardiff's runways.
Amsterdam's Schiphol airport heads the destination list, as a global hub for international flights.
Growing trend
Holiday hotspots in Spain are well represented in a list that also includes the French capital of Paris and the Canary Island hotspot of Tenerife.
This year the capital's airport will also see a plane load of holidaymakers taking off for a trip to see Santa in Lapland.
The growing number of people in Wales "getting away from it all" reflects a trend across the UK.
According to the Association of British Travel Agents (ABTA), four million people will be leaving the UK over the Christmas and New Year period.
However, Wales has not been left out in the cold as ABTA has named Llandudno as one of the top destinations for people wanting a festive holiday in the UK.
Sun, snow and seeing loved ones are the main motivations for those packing their bags to make it one of the peak times for the travel industry.
Popular UK destinations for Christmas holidays
Llandudno
Torquay
Brighton
London
York
Source: ABTA
Debra Barber, managing director at Cardiff Airport, said: "We're looking forward to welcoming customers to the airport over the whole Christmas period.
"We are in the Christmas spirit with decorations and festive music in the terminal."
The airport has some words of warning though - check with the airline if you're thinking of taking Christmas crackers on the plane and don't wrap your presents - because they will be opened by security.
Another country, another Christmas tradition
AMSTERDAM
For most children in the Netherlands, the most important day is 5 December, when Sinterklaas (St Nicholas) brings them their presents.
DUBLIN
In Gaelic, Christmas is 'Nollaig', Santa Claus is known as 'San Nioclás' or 'Daidí na Nollag' (Father Christmas) and Happy/Merry Christmas is 'Nollaig Shona Dhuit'.
BELFAST
The day after Christmas Day is known as St Stephen's Day and not Boxing Day.
TENERIFE
A big tradition is Midnight Mass or 'La Misa Del Gallo' (The Mass of the Rooster). It is called this because a rooster is supposed to have crowed the night that Jesus was born.
ALICANTE
Most families eat their main Christmas meal on Christmas Eve before going to church. The traditional Spanish Christmas dinner is 'Pavo Trufado de Navidad' which is turkey stuffed with truffles.
MALAGA
28 December is 'Día de los santos inocentes' or 'Day of the Innocent Saints' and is very like April Fools Day in the UK. People try to trick each other into believing silly stories and jokes.
EDINBURGH
The highlight of the festive season has to be Hogmanay. The city's Hogmanay Street Party is one of the world's greatest New Year celebrations.
SHARM EL SHEIKH
Christmas Day is not celebrated on the 25 December but on 7 January in Egypt. Santa is called Baba Noël (meaning Father Christmas).
PARIS
The main Christmas meal, called Réveillon, is eaten on Christmas Eve. Another celebration, in some parts of France, is that 13 different desserts are eaten.
LANZAROTE
New Year's Eve is called 'Nochevieja' or 'The Old Night' in Spain, and one special tradition is that you eat 12 grapes with the 12 strokes of the clock at midnight. Each grape represents a month of the coming year, so if you eat the 12 grapes, you are said to be lucky in the new year.