Archbishop Morgan pleas for UK to accept Syrian refugees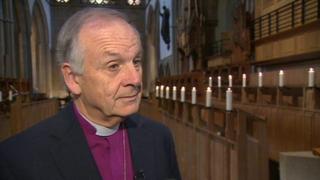 The Archbishop of Wales is calling on the UK government to accept refugees from the civil war in Syria.
In his Christmas message, Dr Barry Morgan says Christians should stand up for people who have been affected by an "especially bleak" year.
He touched on the Ebola crisis, the UK's historical sexual abuse scandal and the rise of Islamic State or Isis.
He said helping the poor and refugees were "two practical things we could do as a country and as individuals".
Dr Morgan said he understood how people might feel that there "was darkness everywhere".
He said: "People expect God to come and just 'zap' people - they see God as a god of force and violence."
The message of Christmas, he said, is that God is "revealed in weakness" to help people "face that which they have to endure".
'Innocent civilians'
The Roman Catholic Archbishop of Cardiff, the Most Reverend George Stack, also touched on the theme of conflict in the Middle East in his Christmas message.
"The price being paid by innocent civilians is too much to bear," he said.
"These ancient lands of the Bible are being scarred by hunger and disease, by persecution and death."
The Archbishop added: "The celebration of Christmas allows us to speak to God about the sufferings of our troubled world.
"It reminds us, in the words of the poet John Betjeman: 'That God was Man in Palestine, and lives today in bread and wine'."
'Blessing'
The Union of Welsh Independent Churches urged people to do what they can to ease the loneliness of many elderly people over the festive period.
It represents nonconformist Christians meeting in more than 400 chapels throughout Wales.
In his Christmas message, the union's president, the Revd Dr R Alun Evans, said: "If we can't invite them to Christmas dinner, why not give them a call and have a chat, just to show that we're thinking of them?
"Sharing a little kindness would be a blessing to us all."